The first Women's Rights Convention was held in Seneca Falls, NY. Organized in part by Elizabeth Cady Stanton (a resident of Seneca Falls), the event brought together both men and women to discuss the social, civil and religious condition and rights of women. "The Seneca Falls Convention", as it became known, launched a national movement for equal rights – most notably women's right to vote. Its legacy is on display in the many community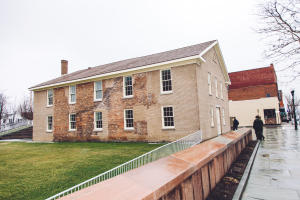 landmarks that remain standing – more than 100 years after passage of the Nineteenth Amendment.
The Wesleyan Chapel (pictured left) hosted the event on July 19-20, 1848. Today, the Wesleyan Chapel is open to the public as part of the National Women's Rights Historical Park. It welcomes thousands of visitors each year and serves as a lasting monument for women's suffrage. 
Things to Know About Women's Rights & Seneca Falls:
A Chance Meeting - 
In the spring of 1851, Susan B. Anthony met Elizabeth Cady Stanton during a visit to Seneca Falls. The encounter proved to be a monumental moment in the women's rights movement. It began a historic friendship that endured for more than a half century and sparked a powerful force of change for women's suffrage. A life-size bronze statue commemorates "when Anthony met Stanton" and is located along East Bayard Street in Seneca Falls, near the spot Amelia Bloomer introduced the women.
Women's Rights Colors - 
The color combination of pu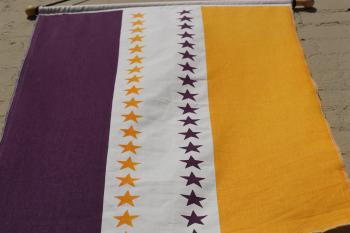 rple, white and yellow became a lasting symbol of women's rights. Purple stood for dignity, white for purity and gold (or yellow) for enlightenment. The National Woman's Party added a star to its flag for each state that passed the 19th amendment. The addition of the 36th star meant the amendment was fully ratified – which occurred in 1920 after Tennessee adopted the measure.
Among the most influential suffragists, Elizabeth Cady Stanton called her Seneca Falls home "Grassmere" and the "Center of the Rebellion." She moved into the Seneca Falls house, at 32 Washington Street, in 1847 with her husband and three sons. The property is also part of the National Park Service and open to the public for tours.
The National Women's Hall of Fame is the nation's oldest membership organization dedicated to recognizing and celebrating the achievements of American women. Following a historic expansion in 2020, the Hall has become one of the most iconic landmarks in the community and an enduring source of both information and inspiration. Nominees are inducted every two years.