Choose Seneca County for your next family getaway! Nestled in the heart of New York, Seneca County is your one-stop shop for family-friendly fun. Whether it's animal encounters, challenging mazes, bowling strikes, or delectable dining, there's something for everyone in this scenic haven.
Animal Adventures Await
Begin your journey at Deer Haven Park, a sanctuary where you can engage with various animals in their natural habitat. The park offers guided tours that will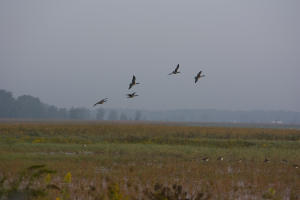 educate and fascinate both the young and old. Take a guided bus tour, a private tour, or explore on your own with a self-guided auto tour.
Just a hop, skip, and jump away is the Montezuma National Wildlife Refuge. Here, families can immerse themselves in nature as they observe a diverse array of wildlife. From migratory birds to native species, this refuge is a living testament to biodiversity. Don't forget to bring your binoculars!
Family Fun Spots
After your wild encounters, why not let the kids enjoy outdoor play at Amazeing Acres? Explore the 7,000-square-foot hedge maze and let imaginations run wild at the Amish-built playhouse and schoolhouse.
When the sun sets, keep the fun rolling at Sunset Bowl, a family-friendly bowling alley that guarantees laughter and friendly competition. Take the fun up a notch with Cosmic Bowling or Unreal Bowling, an interactive bowling experience that brings the lane to life with graphics and audio.
Outdoor Parks and Playgrounds
Seneca County is blessed with an abundance of outdoor parks and playgrounds. Pack a picnic basket and enjoy a leisurely lunch under the canopy of trees. With open spaces for sports and playgrounds for the little ones, places like Sampson State Park and Seneca Lake State Park offer the perfect setting for a fantastic family day out.
Casual Dining in Seneca County
After a day packed with adventure, refuel at one of the many casual dining spots dotted around Seneca County. Whether you're craving pizza, burgers, or a refreshing salad, you'll find a variety of options to satisfy your taste buds. Kids will love Connie's Diner for its vintage diner atmosphere and one-of-a-kind loaded milkshakes. Head to Ciccino's Pizzeria for delicious homemade pizza the whole family will love. Or, check out Wolffy's Grill and Marina for waterfront dining and a diverse menu that is sure to please even the pickiest of eaters.
With its rich wildlife, engaging activities, beautiful parks, and delicious food, Seneca County is the ideal destination for a memorable family getaway that both parents and kids will love.