Becky Bly
Owner, Woman Made Products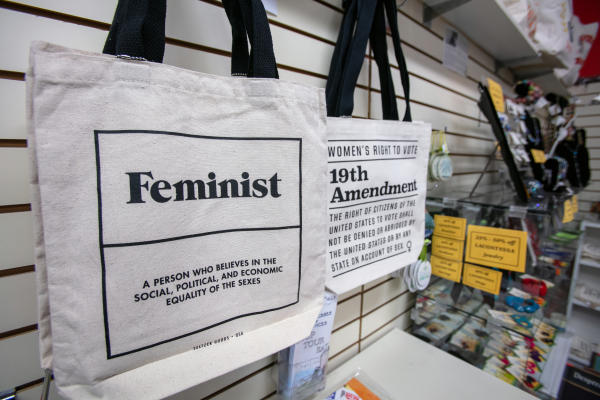 At WomanMade Products, Empowerment is the Gift
 At WomanMade Products, a delightfully diverse gift shop in Seneca Falls, you can buy all sorts of items, such as inspirational T-shirts, witty greeting cards, handcrafted baskets and aromatic soaps.
But there's one gift you can't put a price on: the power of connection.
"It's very interesting to watch a woman come in the store," said Becky Bly, founder and owner of WomanMade Products. "She'll see something, and all of a sudden she starts to feel good about herself, or becomes inspired in some way. I've had women who don't come here to shop, but to connect with a like-minded person."
Bly has built a life—and a business—around supporting and empowering women. It's the central theme of her retail shop, and an essential quality in the products she sells.
"It's the most unique shop in the Finger Lakes," she said. "You're going to find things here that you cannot find anywhere else."
WomanMade Products began as a T-shirt printing business in Bly's Long Island basement in 1976.
It started after a customer at the art supply store she managed asked her for advice on screen printing, the technique used to print designs on T-shirts and other materials.
"I didn't know anything about screen printing, but they were looking to me for information, so I read up on it," said Bly. "I bought a silk screening kit and tried it myself."
The first T-shirt she created was for a friend's birthday. Then, people began asking her to make shirts for them.
"Before you knew it, I was in business," Bly said.
Within two years, she had developed an extensive product line and sought other ways to sell her shirts beyond mail order.
Because she created primarily feminist-oriented designs, she contacted feminist bookstores around the country. But they only wanted to sell books.
So in 1978, she opened her own bookstore, partly as an outlet to sell her T-shirts.
"It was the first lesbian, gay, feminist bookshop on Long Island," Bly said.
She expanded the store to include products from other craftswomen she met at women's conferences and music festivals across the U.S.
Eventually, competition from large bookstore chains like Barnes and Noble and Borders put Bly and other independent booksellers out of business.
But Bly had a safety net in her T-shirt printing business.
"I could take that business anywhere," she said. "I asked the women I knew for their advice on where to move."
Two of those women had previously moved from Long Island to Seneca Falls. One of them was then-superintendent of the Women's Rights National Historical Park.
"They told me that Seneca Falls was a great place and good things were happening," Bly recalled. "It made sense to take my feminist business to a feminist address."
Building a business and a community
Bly moved to Seneca Falls in 1991 and opened a retail storefront for WomanMade Products. After a couple moves around downtown, the business found its home at 91 Fall Street in 2001.
The retail shop is stocked with Bly's original T-shirt designs, handcrafted jewelry and glassware, tote bags, books, novelty items, and woven baskets and other fair-trade items from around the globe whose sales benefit women and girls.
Since summer is the shop's peak season, most of her customers are tourists.
"There are also repeat local customers who are very nice and want to support me," she added.
Bly also does custom screen printing for local businesses, schools, clubs and community organizations.
"We do a good amount of custom work, whether people need a dozen shirts or 100 shirts," she said.
This year, WomanMade Products is featuring T-shirts honoring the 100th anniversary of the 19th amendment giving women the right to vote. One tee features the word "Vote" repeatedly printed on it. Another says, "Nevertheless, she voted."
Bly's business has always been centered on community. At her Long Island bookstore, she held weekly discussion groups with women. In her Seneca Falls gift shop, she has created a positive space for social connection.
"People share with us how the shop makes them feel," Bly said. "Maybe something's going on with them, and they feel safe by walking in here. Or they feel positively overwhelmed by the good vibes of what they see here."
Bly said the past two years have been especially good for business. But she's not in it for the money.
"I do this because it feeds my soul," she said. "Very often, women feel empowered and they leave here changed. That's a good feeling, knowing that in some small way, we're helping people find themselves."