Xarika Suffredini
Singer/Songwriter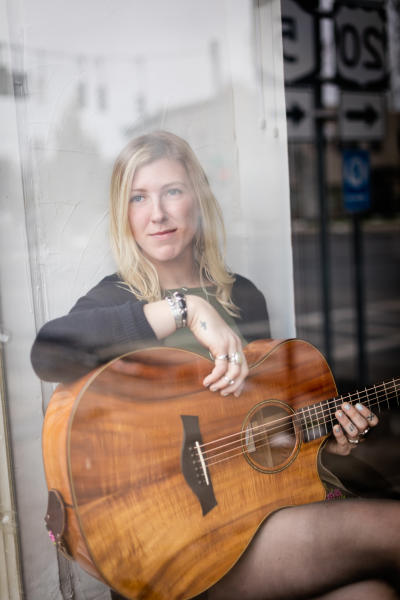 Singing From the Heart
Xarika Suffredini found her dream while riding in the backseat of her parents' car.
That's where, as a young girl, she was introduced to music, and fell in love with icons like Fleetwood Mac and Jerry Garcia.
"It was the music in my parents' car, that they chose, that inspired me to become the singer that I am," Suffredini said.
Known to her fans as Zee, the millennial singer-songwriter and guitarist is now living her dream in the Finger Lakes.
"My dream as a little girl was to be a singer," Suffredini said. "I would go out on my swing set and make up songs and sing to myself. I remember setting up my dad's old camcorder and singing 'Fancy' by Reba McEntire into a hairbrush."
Suffredini wrote her first song when she just 9 years old.
"My mom had this old guitar lying around the house," she recalled. "It was never tuned. It was a dust collector. I picked it up one day and one string a time, started figuring out the frets."
Impressed by her daughter's initiative, her mom signed her up for guitar lessons. By the time she was 12 years old, Suffredini knew she wanted to be a singer.
She continued writing songs through her teenage years. But when she graduated from Waterloo High School in 2009, she wondered if pursuing a music career would quell her passion or result in burnout.
"I always kept music on the backburner," she said. "It was an outlet for me. When I was frustrated, I could sit down and write music or learn a new song."
In her freshman year at Keuka College, where she studied business and marketing management, she saw a flyer for an open mic night.
Anxiously, she signed up.
"I had never done anything like that before," Suffredini said. "It was just me and my guitar. It was scary. But I got up there. The first song, I messed up. But the rest, I nailed them. That's when I realized I was meant to do this."
Soon after, she became the frontwoman in a band called Queen Zee and the Sketch Kids. Those live shows helped her develop her stage presence and gain more exposure.
Music is deeply personal
Writing and performing is a very personal experience for Suffredini.
"I write from the heart," she said. "It just kind of pours out of me."
Most of her songs are about heartbreak and facing life's questions and frustrations.
"The hardest thing to do is play a song for somebody," she said. "Those are my raw feelings. That's my heart on a platter for you."
Her song "The Voyage" is about a boy named Oliver who went to a neighboring high school. Though he and Suffredini liked each other, the stars didn't align and they never dated.
She also wrote a love song, something she doesn't often do. So it's aptly titled, "I Guess This is a Love Song."
Suffredini's debut solo performance was in September 2018 at Waterloo's Muranda Cheese Company. Since then, she has continued to perform her acoustic folk music at venues throughout the Finger Lakes region.
"The response from the community has been great," she said. "I'm really thankful for that."
By day, she pursues a second passion in natural and holistic health, and manages the Back to Nature shop in Seneca Falls. The job marries well with her budding music career. Both are about helping people feel good.
"I want people to hear my music and be at ease and relaxed," she said. "I hope it can be a tool to help them. I want to provide that goodness for people or be that light in somebody's darkness, to know they're not alone."
Suffredini hopes to record an album in the near future.
"I never thought this would be anywhere close to what it's becoming," she said. "But I love singing and performing and I want to do more of it. I know that this is something I was put on this earth to do, and I'm driven to do it."