Taking a day trip in the Finger Lakes? Stop in Seneca County by hopping off Exit 41 and stop at Love's Travel Stop before heading to the Waterloo Premium Outlets!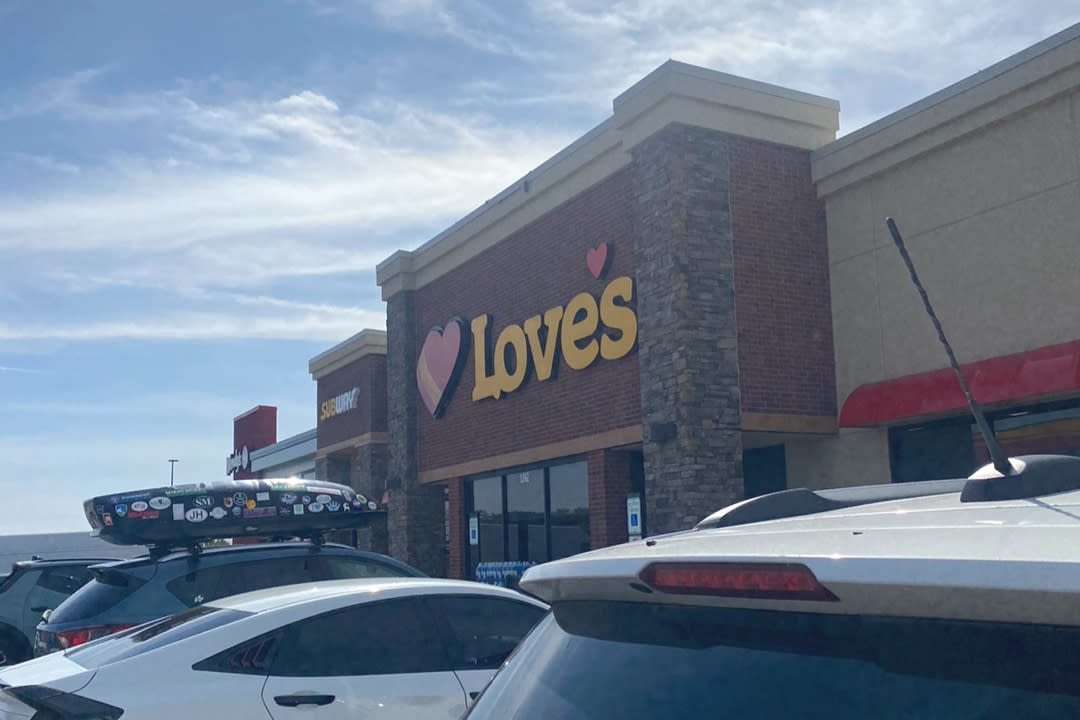 Once you jump off Exit 41 in Tyre, New York, there are plenty of options to stop at for a quick break, a bite to eat, a bathroom stop, or to gas up. Love's is one of the newest additions to the Seneca County area, and they offer plenty of options!
Eating
There are so many options when it comes to eating at Love's Travel Stop. Attached to the convenience store is a Wendy's along with a Subway. If you're just looking to get in and out really fast, there is a drive-thru option for the Wendy's.
Love's offers plenty of options for patrons to choose from if they want to grab their food right from the convenience store. 
With a full menu of hot tacos, you can choose between breakfast or lunch options. 
Breakfast tacos include: 
Bacon, Egg & Cheese
Chorizo, Egg & Cheese
Potato, Egg & Cheese
Sausage, Egg & Cheese
Steak, Egg & Cheese
Lunch tacos include: 
Fajita Chicken & Cheese
Fajita Steak & Cheese
Bean & Cheese
In addition to tacos, the store offers sandwiches and snacks.
Breakfast sandwiches include: 
Ham, Egg & Cheese Croissant
Sausage, Egg & Cheese Waffle
Sausage & Egg French Toast
Sausage, Egg & Cheese Biscuit
Lunch sandwiches include: 
Cheeseburger on Brioche Bun
Bacon Cheeseburger on Brioche Bun
Grilled Chicken Sandwich
Spicy Chicken & Sandwich
Snacks include: 
Hot & Spicy Drumsticks
Cheese & Jalepeno Corn Dog
Corn Dog
Looking for something a bit healthier? Love's has that too! Just check out their cold case!
Salads:
Berry Walnut Spinach Salad
Southwest Salad w/ Chicken
Chef Salad
Chicken Caesar Salad
Garden Salad
Sandwiches:
Turkey & Cheese
Ham & Cheese
Chicken Salad
Tuna Salad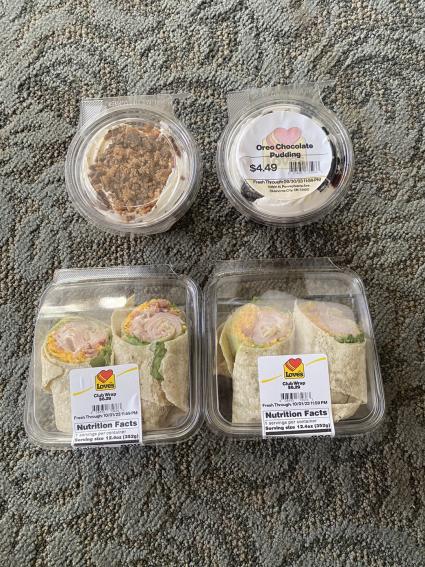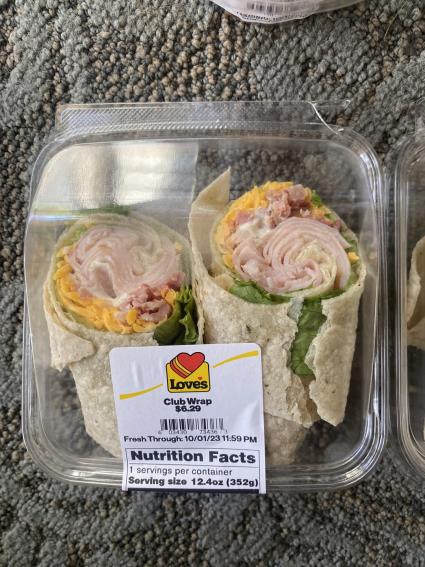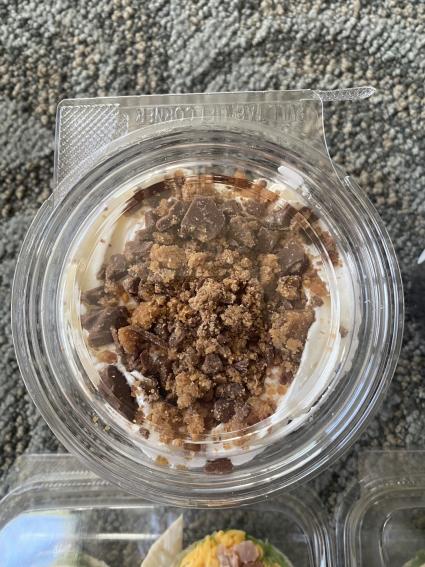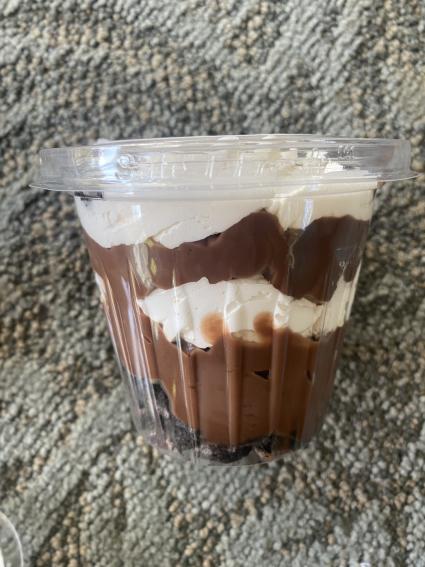 Wraps:
Buffalo Chicken Wrap
Chicken Bacon Ranch Wrap
Club Wrap
Italian Wrap
Fresh cups:
Hard Boiled Eggs
Blueberry Parfait
Strawberry Parfait
Banana Pudding
Oreo Chocolate Pudding
Reese's Chocolate Pudding
Trays:
Snack Tray
Veggie Tray
Cheesecake:
Original Supreme
Chocolate Fudge Cake
Whole Fruit:
Apples
Oranges
Bananas
Fresh Cups:
Vegetable
Cantaloupe
Cantaloupe & Strawberry
Clementine
Watermelon
Grapes
Honeydew
Pineapple
Finally, there's the roller grill, with tons of tasty, savory options for someone that's just craving something delicious.
This includes: 
Hot Dog
Hot Link
All Beef Hot Dog
Cheddar Smoke Sausage
Jalapeno Cheddar Sausage
Cheddar Beef Bratwurst
Cheesy Pepper Jack
Oscar Mayer Blueberry Pancake Sausage
Maple Pancake Sausage
Ranchero Steak & Cheese Tornado
Southwestern Style Chicken Tornado
Buffalo Chicken Ranch
Firegrilled Cheeseburger
Padrino's Pork Tamale
Monterey Jack Chicken
Topping options include:
Banana Peppers
Diced Onions
Jalapenos
Salsa
Sauerkraut
Sweet Relish Pico de Gallo
Love's is an entire travel stop, which means there's far more available there than just food; you can buy toys, technology devices, and winter accessories
Love's has an entire technology section where you can buy tons of things necessary for truck driving, or just plain traveling. Charging cords, blue tooth headsets, radios, speakers, GPS and GPS accessories, portable power inverters, dash cams, radar detection devices, and CB radios are just a small percentage of what's available in their technology section.
Do you have kids in the car who are just getting incredibly bored? Toys and collectibles are abundant at Love's. There are die-cast collectibles for those that love cars, and tons of novelty toys like pocket travel sized Finger Football, Tic Tac Toe, Battle of the Boats, and more. Name brand toys available include Pokemon, toys, Squishmellows, TY stuffed animals, and many more kinds of stuffed animals.
Do you need clothes because you didn't expect the weather, your purse strap broke, or you forgot to get someone a gift? Lowe's has you covered. Love's is already stocked up on their winter accessories for adults and kids, offering beanies, hats, socks, gloves, jackets, hoodies, and plenty more. There's a large selection of wallets, purses, and even facemasks if you need to buy someone something at the last second.
Love's even has their own exclusive travel brand called Portage. Portage makes bags and totes. If you have any reason to need a new travel bag quickly, this is a great option. Many different shapes and styles are available, and you can get them for an affordable price. Costs range from $9.99 to $34.99.
The store is so big they have rotating sales and promotions (like the Pick 6 Specials)
If you find yourself visiting Love's often, you may want to get in on some of the deals before they expire.
The most recent Pick 6 is running from August 31, 2023 to October 31, 2023.
Check out the sales by clicking here, they will update bi-monthly.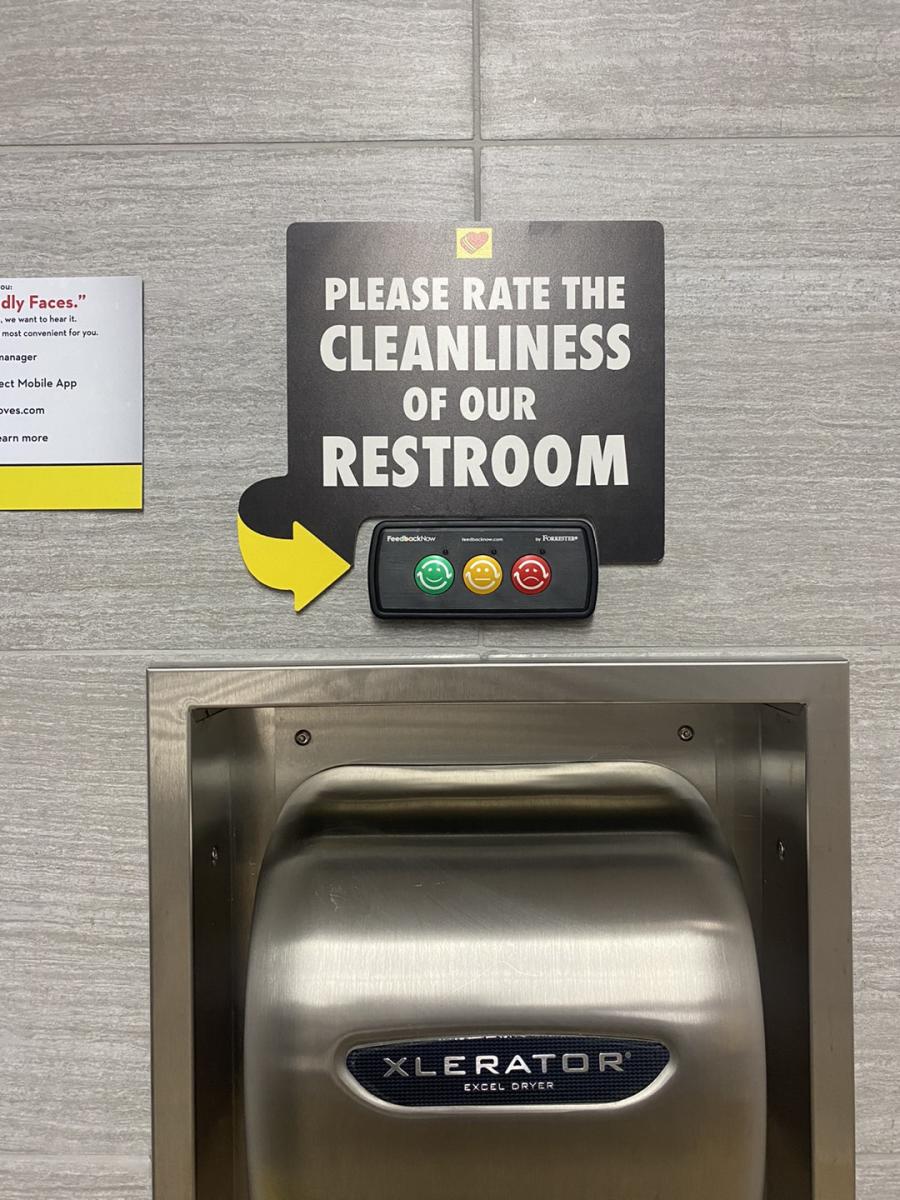 Love's prides itself on having a clean stores, but especially having clean bathrooms. After using their bathrooms and washing your hands, right over the hand dryer is a button system that allows you to choose a rating for how clean you felt the bathroom was that day.
The Waterloo Premium Outlets is just 4.2 miles from Love's Travel Stop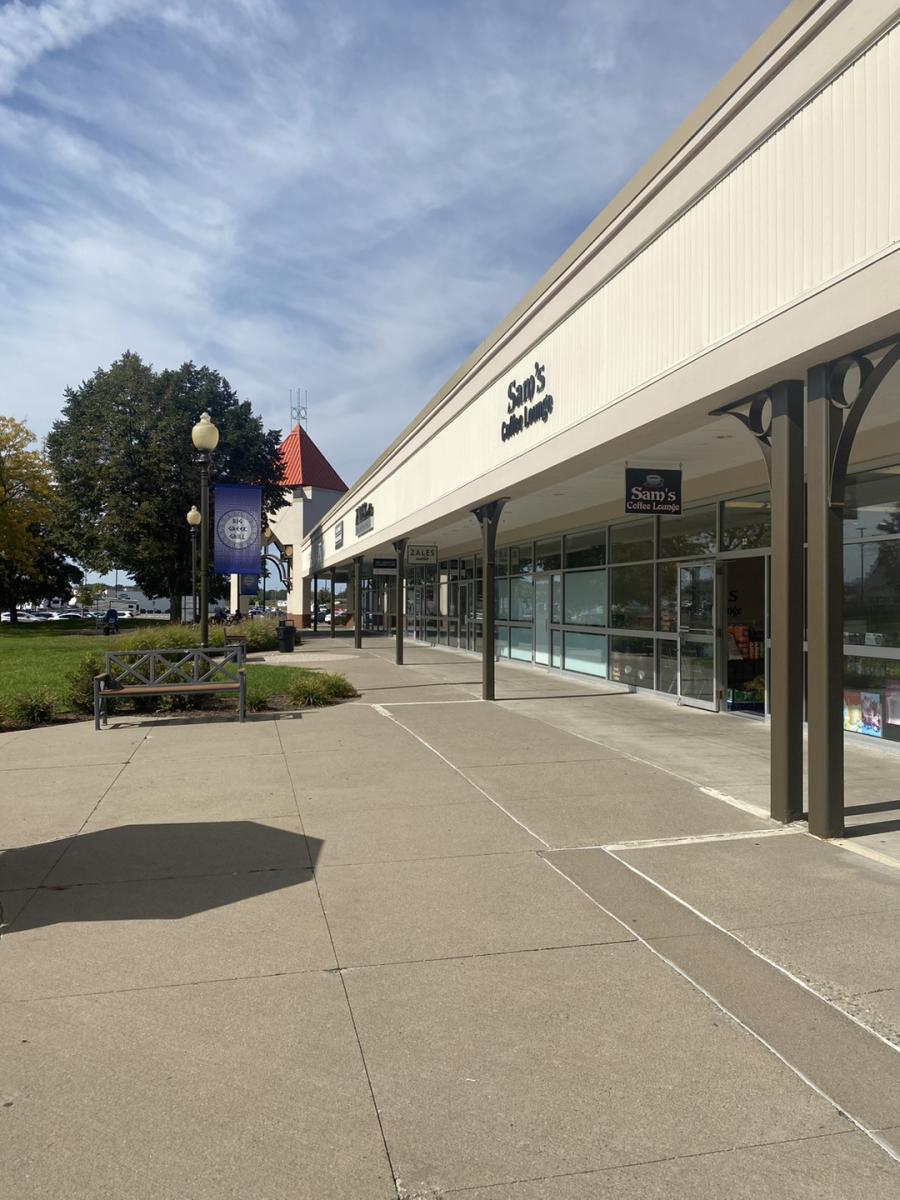 Once you've taken a break at Love's you can hop back on the road and drive to the mall that's only about five minutes away. There are so many stores to choose from with all different types of items. There are numerous name brands like Adidas and Nike, but there are also a lot of locally owned stores with unique gifts and items.
adidas Clearance Store
Aeropostale
American Eagle Outfitters
Banana Republic Factory Store
Big Greek Grill
Brooks Brothers Factory Store
Calvin Klein
Carter's
Casual Male XL
Champion
Chico's Outlet
CityCell
Clarks
Coach Outlet
Columbia Factory Store
Daily Thread
Eddie Bauer Outlet
Evolved Gifts
Famous Footwear Outlet
Food Court
Go! Calendars, Toys & Games
Grandma's Sewing & Bridal Accessories
H & M
HANESbrands
J.Crew Factory
J.Crew Factory Crewcuts
Jawns Over
Jockey
Journeys
Kate Spade New York Outlet
Kay Jewelers Outlet
Lee | Wrangler
Levi's® Outlet Store
LOFT Outlet
Margarita's Latin Soul Food
Merrell
Michael Kors Outlet
Mrs. Field's/TCBY/Pretzelmaker
My Favorite Sports Store
Nautica Factory Store
NIKE Factory Store
Old Navy Outlet
Pepper Palace
Perfume Hut
Polo Ralph Lauren
Predator Mountain Wear
PUMA Outlet
Rockin Coffee Beans
rue21
Sam's Coffee Lounge
ScentSational Scents and Soaps
SCHIQ
SHOE DEPT.
Skechers
Steak & Potato
Sunglass Hut
Talbots Outlet
The Children's Place Outlet
The Cosmetics Company Store
The Uniform Outlet
Tommy Hilfiger
Under Armour
Yankee Candle
Zales Outlet
Zumiez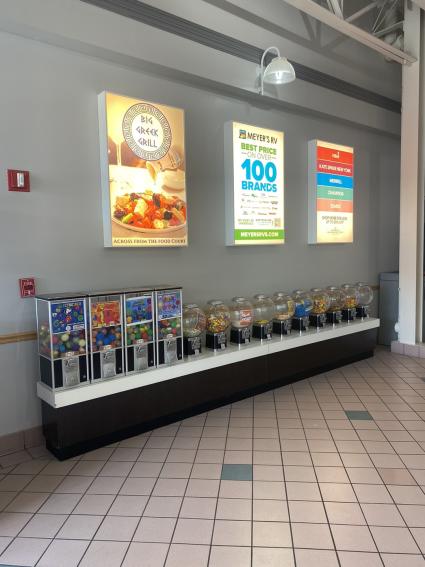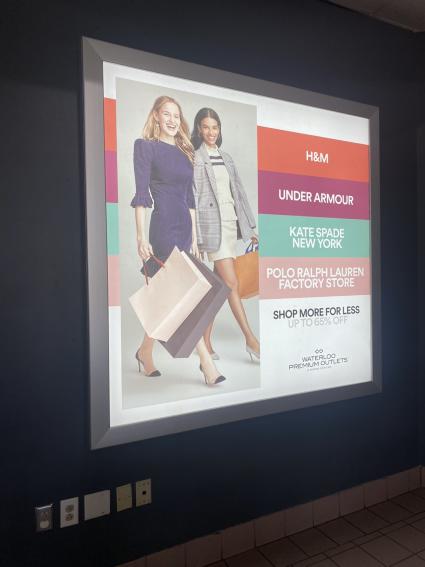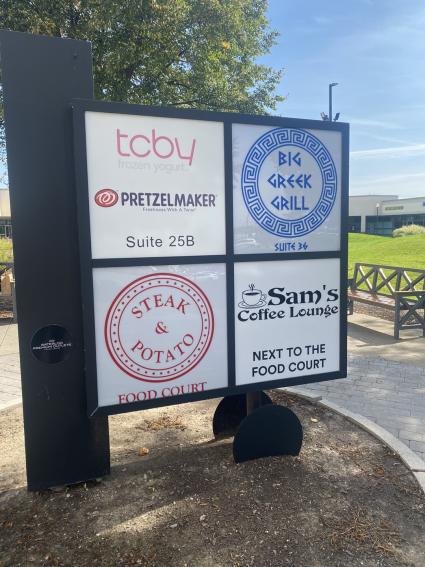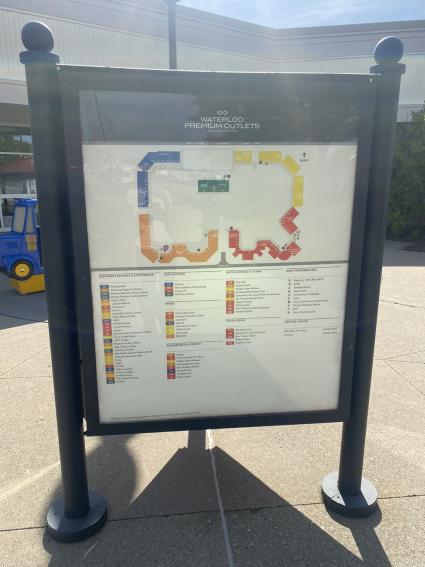 If you're looking to continue planning your trip to Seneca County, there is a visitor center that provides you with plenty of tourist information that will help you plan your trip!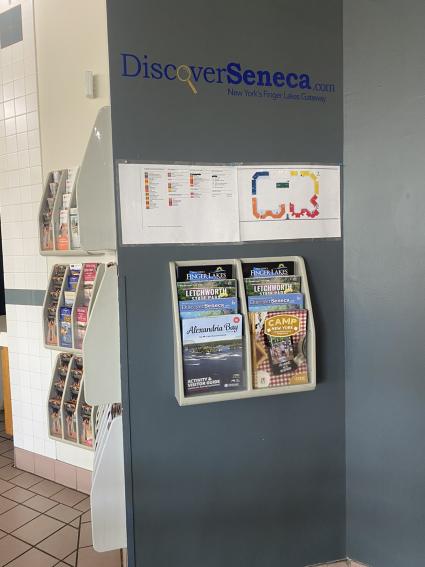 Most recently, the Waterloo Premium Outlets has started a campaign called "Shop Like a Local"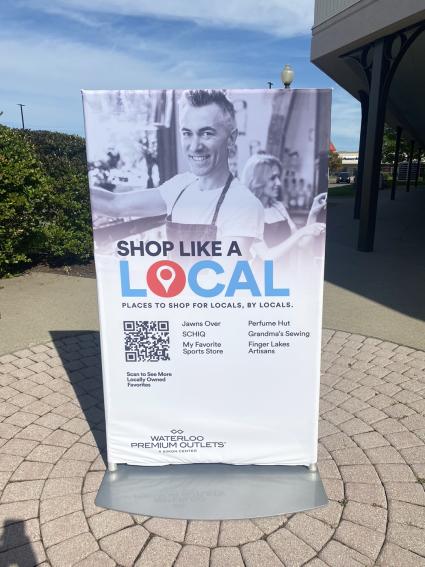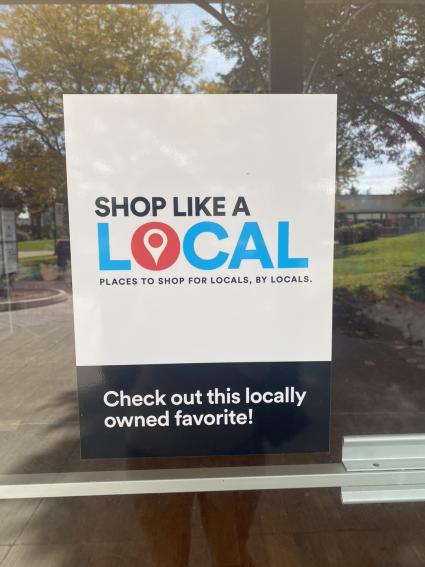 Waterloo Premium Outlets has leased multiple spaces to local business owners. Some of these stores include Jawns Over, SCHIQ, My Favorite Sports Store, Perfume Hut, Grandma's Sewing, and Finger Lakes Artisans. These stores are all locally owned and marked with signs on their doors. Banners throughout the mall show a QR code that visitors can scan to learn more.
Food options at the mall include: 
Margarita's Latin Soul Food
Big Greek Grill
Steak & Potato
Waterloo Premium Outlets offers a unique experience because there are plenty of name brands and big stores throughout, but the food and some other stores are locally owned and can provide an opportunity to find a one-of-a-kind item you wouldn't normally find at a big box retailer.