Visiting Seneca County just got a lot more fun with the WishTrip app!
Seneca County has a lot to offer in the tourism industry. There are farms, wine, cheese, and shopping, but there's something else that's priceless: history.
Seneca County is home to many of history's greatest events. Waterloo, NY is the birthplace of Memorial Day, while Seneca Falls is home to the first Women's Rights Convention. In order to celebrate some of these things, Seneca County has partnered with WishTrip to bring you a unique travel experience!
What is WishTrip?
First off, WishTrip should be explained. The app offers help when it comes to traveling and planning your trip! By scanning the QR code below or clicking the image, you can go directly to the Seneca County page through WishTrip to learn more about how it all works and see it for yourself.

Once you're in the app, you have the option of signing up for an account, where you can keep track of your favorite locations and "treks" that you've taken.
The Seneca County page has an interactive map that you can click on to view various trails. These include the Cayuga Seneca Canal Trail, the Cayuga Lake Winery Trail, the Seneca Falls Women's Rights Historical Trail, and the Seneca Lake Wine Trail. In addition to maps, there are also pins throughout the map to show where attractions are located. Along the top you can search for specific locations by category. These include shopping, wineries, outdoor, food, lodging/accommodations, attractions, tours/trails, and breweries.
But you can also play games
In the upper right corner of the interactive map on the homepage, you'll find a purple icon with a smiley face that says "Play game" and has a play button. As soon as you press it, all the games in the general area you're currently in will pop up. You can choose which one you want to do based on method of travel, difficulty, what type of attraction it is, etc.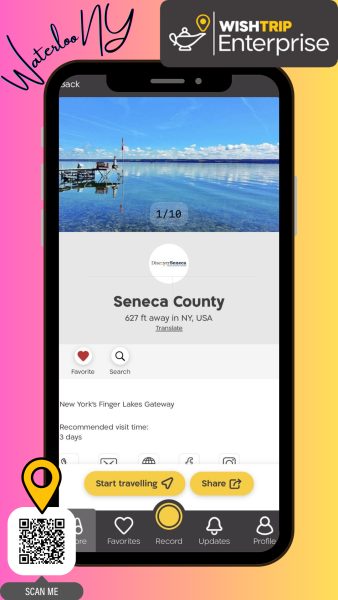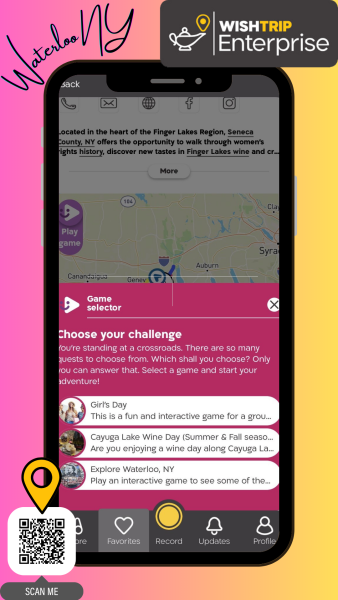 Explore Waterloo, NY
Here, we will go over one of our newest games: Explore Waterloo, NY. This game is a great option for families looking to do something fun, free, and easy. The entire game takes place in Waterloo's downtown area, so walking is an option. Not everyone has the ability to walk, especially if they have young children, so this game also allows driving from place to place to work!
When choosing the Explore Waterloo, NY game, a brief description will show up for you to read (Warning: there are spoilers ahead for this game if you wanted to play it before knowing the answers)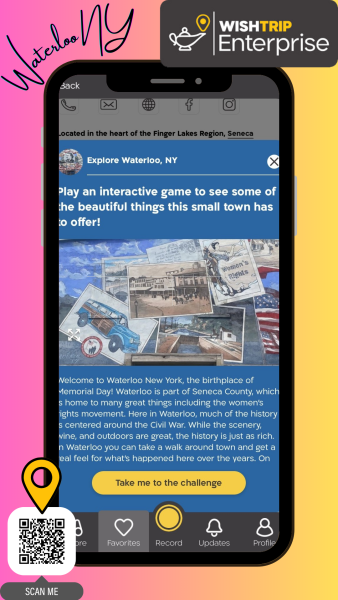 You'll want to choose "Take me to the challenge" to begin, and the first challenge will pop up on the screen for you to complete.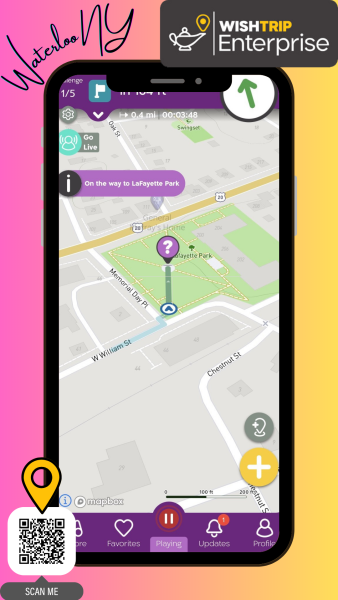 The map you need to use will pop up on the screen, and the app will record your "trek" to keep track of it for you. You can pause it at any time. This app will also ask for permission to use things like your camera, location, or other pieces of data that make your game work.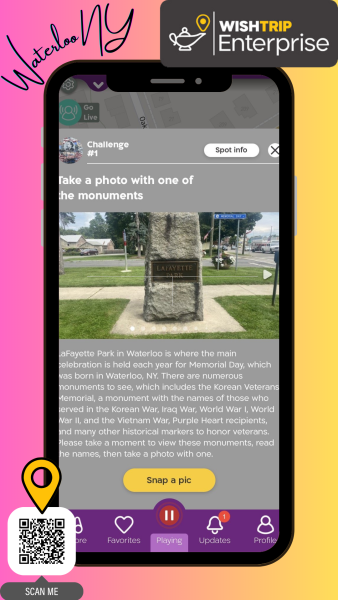 After you arrive at the location, the app will ping to let you know you've arrived and can now accomplish the challenge. Challenges range from taking photos or videos to answering multiple choice questions. In this case, the first challenge is to choose a monument to take a photograph with. This is happening in LaFayette Park, which also happens to be where the Memorial Day celebration is held each year to not only honor those who have served, but to recognize Waterloo as the birthplace of Memorial Day!
The app will ask you questions regarding permissions before you take the photo.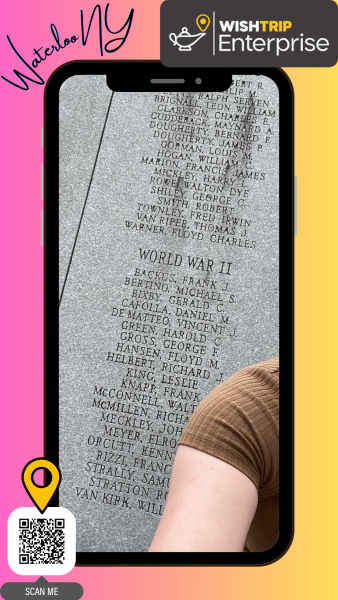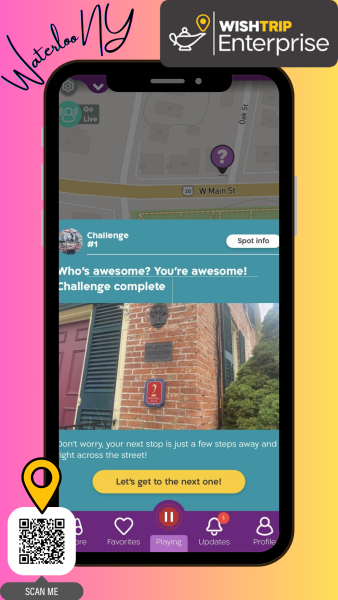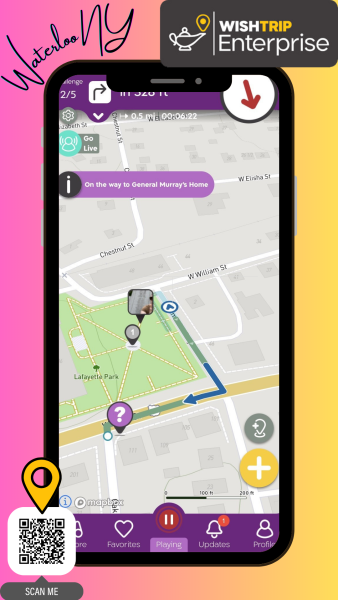 Once you complete the challenge, you have the photo saved to your trek and you can move onto the next place. The arrow in the upper right corner helps to tell you if you're going in the right direction or not.
The challenge for the next stop is a historical question. The second challenge is conveniently located directly across the street from the first challenge and can easily be reached by foot. This is the former home of General Murray, a man who had a large influence on creating Memorial Day long before it became a federally recognized holiday. In fact, a number of years went by where Murray continued to celebrate it before the government finally recognized it as a federal holiday and named Waterloo, NY the birthplace of the day! The former home of General Murray is an insurance business today, but the plaque on the outside of the home signifies it's an important piece of history in Waterloo.
Once you select an answer, you will be notified of whether it was correct or incorrect, before moving onto the next part of your challenge.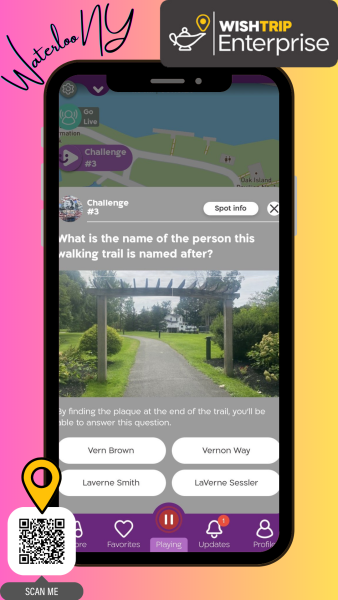 The map will then appear again, directing you to your next challenge location which happens to be right down the street. This challenge is another multiple choice question that asks about Waterloo's history, but this information is much more recent. The third challenge is located at the end of the trail called Vern's Way, which starts near Oak Island on Oak Street. This trail was created as a way to connect visitors who may be coming from the canal by boat to the downtown Waterloo area. The question for this challenge asks about the full name of the local businessman the trail is named after. This man, like Murray, was heavily involved in the local community and did so much a trail was created in his memory that is currently maintained by a local group.
Once answered, the congratulatory message will pop up and show you a hint to your next challenge, which may surprise you because it's in such close proximity to the prior challenge.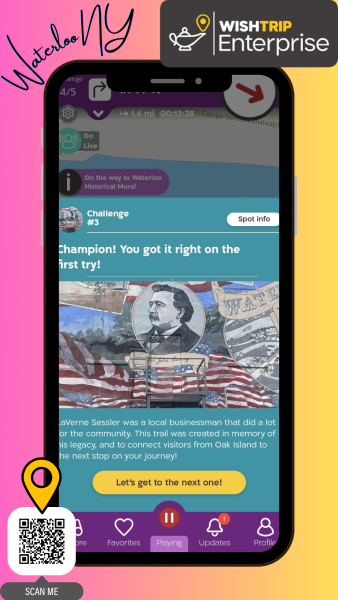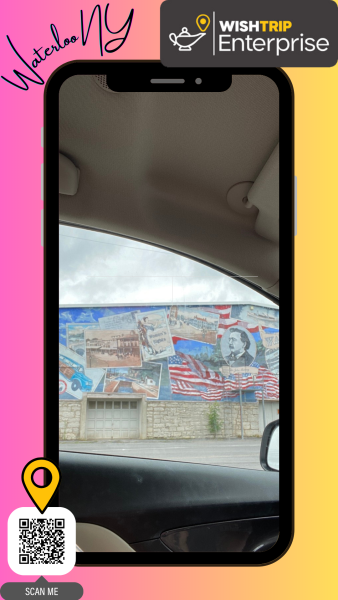 The fourth challenge asks you to take a photograph of the historical mural painted on the back of the Village Offices. This mural contains a number of historical images, all of which can be explained by looking at the legend located at the end of Vern's Way. A painting of General Murray can be seen in the mural as well. Once you take the photo, it will prompt you to the next challenge, which can be reached both by foot or by car.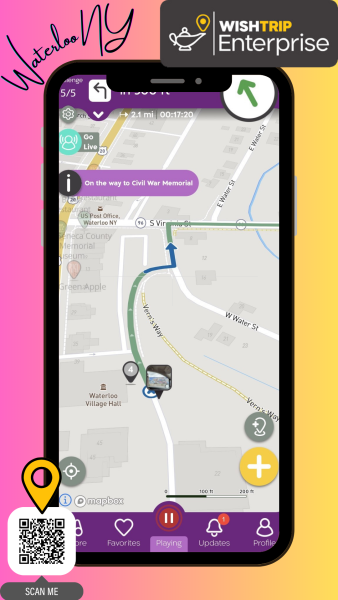 The final challenge takes place at the Civil War Memorial, right along the canal. Boaters have the ability to pull up and visit the park from the water, and there are numerous sculptures throughout, each representing different things, but all to honor those who died fighting for our country.
This challenge will ask you to take a photo of a specific cenotaph that's made out of 36 different types of stones. Each stone came from a different state that existed at the time the Civil War took place.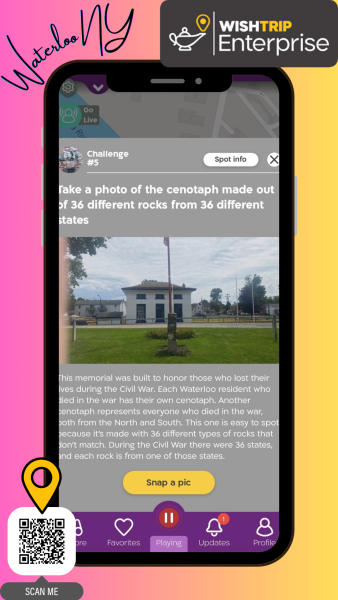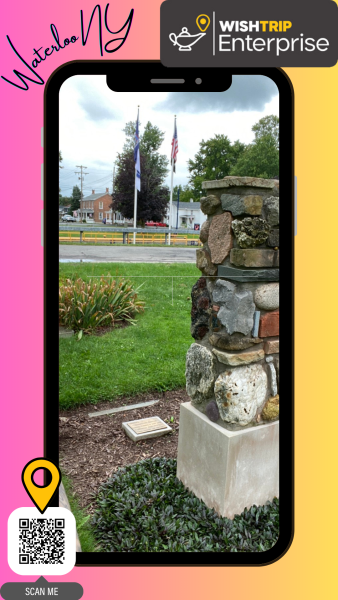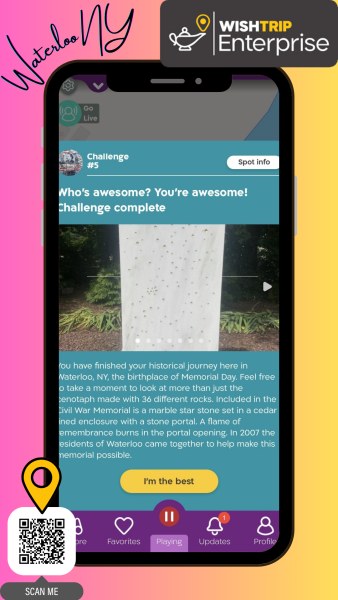 Once complete, you have finished your challenge and the app will work to compile all data you opted to save to create and store your "trek." You can share this trek on social media or allow others to see it so they can get an idea of what to expect.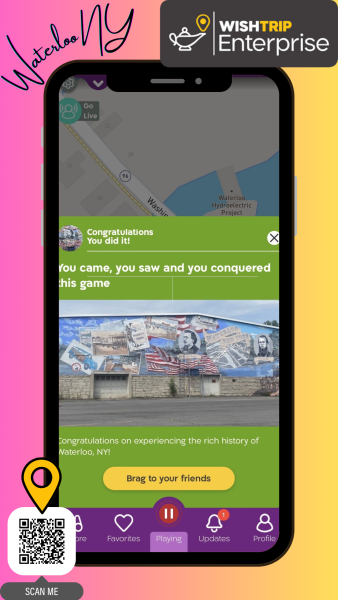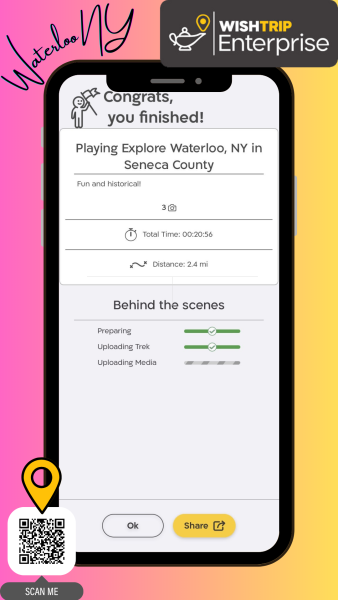 Other games in WishTrip for Seneca County
This is just one of the three games currently available through the Seneca County page on the WishTrip app!
Other games you can currently play: Girl's Day & Cayuga Lake Wine Day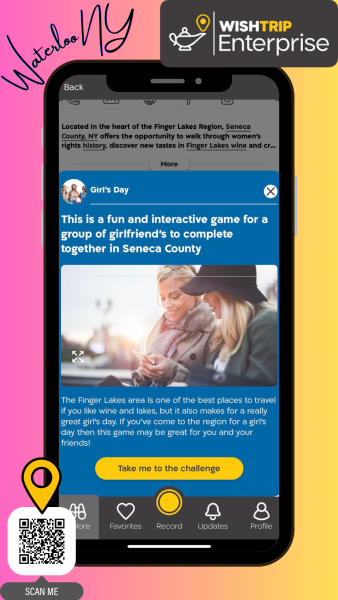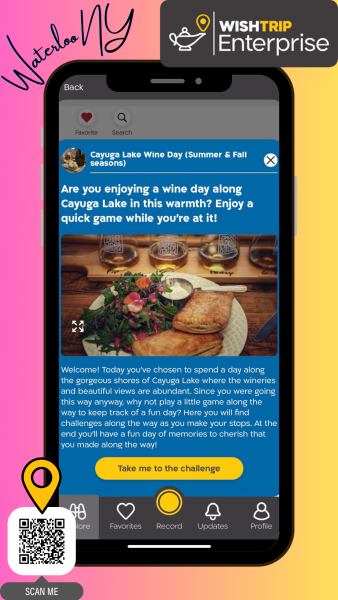 Games are updated seasonally and regularly, so depending on the time of year you visit Seneca County, you should be able to find something fun for you and your friends or families!