When most people think of the Finger Lakes, it's summer, and spending time on the water, visiting a favorite winery, or hiking one of the many trails that come to mind. Don't be fooled by the snow or chilly weather though, winter is also a spectacular season to take in this beautiful area. From winter wine tastings and cozy cabins to snowshoeing and cross-country skiing, there's something for everyone to enjoy during the cold weather. Seneca County has countless hidden gems that are enjoyed during the beautiful winter months, and we've rounded up some of our favorite unexpected winter activities.
Cozy Indoor and Outdoor Tastings
Head to Wagner Vineyards and Wagner Valley Brewing Co. (9322 St. NY-414, Lodi), where an enclosed brew deck gives way to stunning views of Seneca Lake without having to deal with those chilly Upstate NY temperatures. If you want to enjoy a relaxing tasting and beat the crowds, the winter is an ideal time to visit, as there's often more one-on-one time to connect with the staff and discover your new favorite beer or wine! Click here to learn more or make a tasting reservation.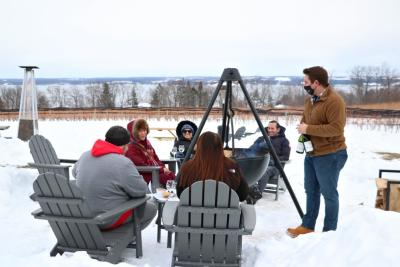 For those of you who welcome the brisk nighttime air, enjoy an Outdoor Fireside Tasting Experience at Buttonwood Grove Winery (5986 NY-89, Romulus). Seated around a warm, bustling fire you can enjoy themed experiences – from the Super Bowl to Valentine's Day that feature samples of wine, cheese, chocolate (or more), while taking in the views of a snow-covered Cayuga Lake. Click here to book a winter experience!
Outdoor Winter Fun
You can't let a trip to Seneca County go by without getting outside and enjoying one of the many trails the area has to offer. Check out Cayuga Lake State Park (2678 Lower Lake Rd., Seneca Falls,) for snowshoeing, sledding, or ice fishing or head to Seneca Lake State Park (1 Lakefront Dr., Geneva) and try out cross-country skiing. The area has so much to offer, you just have to get outside and experience it for yourself!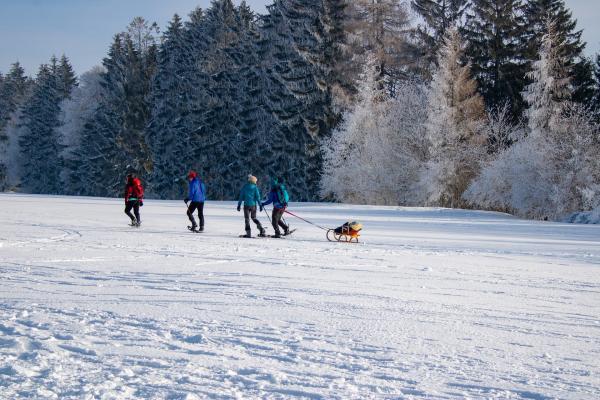 Winter Ranch and Ride
You'll need a cozy place to stay after your outdoor adventures, and D&K Ranch (3010 Clark Rd., Lodi) is a distinctive option. Relax and unwind in one of their rustic cabins or keep the adventure going with horseback riding, snowmobile, or cross-country skiing on the snow-covered Finger Lakes National Forest trails. The best part? You can end your day beside the bonfire or with a soak in the hot tub. Their ponies will even deliver your luggage directly to your cabin! Click here to book this one-of-a-kind experience.