Discover Seneca County's Casual Dining
While good food made fast is often a preferred choice for breakfast and lunch, dinner is a time for visitors and residents alike to relax in a comfortable setting and reflect on their day's achievements. Fortunately, Seneca County has plenty of sit-down restaurants that offer a solid dining experience with less formality.
LEARN MORE ABOUT SENECA COUNTY'S UNIQUE FACES & PLACES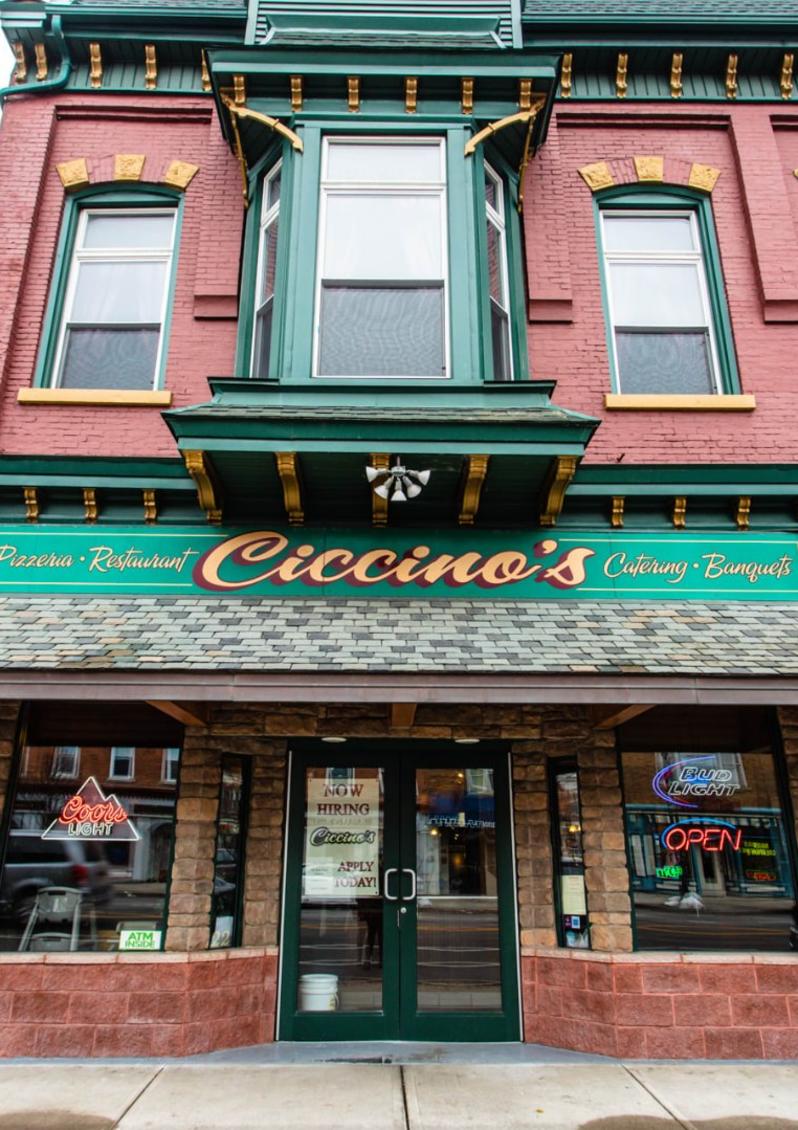 Ciccino's
Ciccino's (chi-chi-nose) Pizzeria, founded by the Franzone Family (whose origins are from Sicily) opened the doors for business on May 29th, 1996. With its origins from Italy, the name Ciccino's originated from the family's uncle - Francesco Palmeri "Ciccino" who lived in Sambuca Di Sicilia, Sicily. Casual Dining Business Directory
Casual Dining FAQ's
Ciccino's Pizzeria & Restaurant (Waterloo)
Parker's Grille & Tap House (Seneca Falls)
Sociale Cafe at del Lago (Waterloo/Tyre)
The Bistro at Thirsty Owl Wine Company (Ovid)
Knapp Vineyard Restaurant (Romulus)
Bella's Seneca Lake Steakhouse (Waterloo)
Portico by Fabio Viviani at del Lago (Waterloo/Tyre)
Dano's Heuriger on Seneca (Lodi)
Sackett's Table Restaurant (Seneca Falls)
84 Fall (Seneca Falls)
The Restaurant at Gould Hotel (Seneca Falls)

Sociale Cafe at del Lago (Waterloo/Tyre)
84 Fall (Seneca Falls)
The Restaurant at the Gould Hotel (Seneca Falls)
Knapp Vineyard Restaurant (Romulus)
Sackett's Table Restaurant (Seneca Falls)
Dano's Heuriger on Seneca (Lodi)
Portico by Fabio Viviani at del Lago (Waterloo/Tyre)

Cafe Toscana at Ventosa Vineyards (Geneva, NY)
Ginny Lee Cafe at Wagner Vineyards (Lodi, NY)
O'Malley's Cabin on the Lake (Interlaken, NY)
The Bistro at Thirsty Owl Wine Company (Ovid, NY)
Wolffy's Grille & Marina (Seneca Falls, NY)
Dano's Heuriger on Seneca (Lodi, NY)