(Waterloo, NY) The Seneca County Chamber of Commerce and Hampton Inn Seneca Falls have recognized 5&20 Wine & Spirits of Seneca Falls as the March 2021 Business of the Month.
Founded by D Patel of Seneca County in October 2019, 5&20 Wine & Spirits has recently celebrated its first anniversary.  As a new business in the face of COVID, this first anniversary is impressive and exciting.  This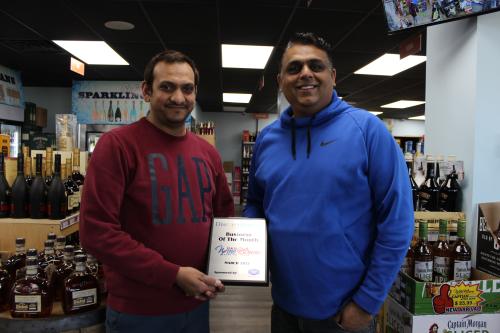 milestone was attainable thanks to the dedication of D and his team.  Plus, the entrepreneurial spirit runs in the family, as D's father also owns and operates businesses in Seneca County.  "It's nice to see a legacy like that," Megan Slater, Membership Development Manager at the Chamber, "and we are thrilled to acknowledge the team at 5&20 Wine & Spirits for their accomplishments."
The team at 5&20 Wine and Spirits is committed to providing a great selection of wine and spirits at competitive prices to their valued customers and community with an exceptional shopping experience that's convenient and friendly.  A huge selection of local products is available.  Recently released are two bourbon whiskey varieties called George Dickel and Heaven's Door.  They are both specially made for 5&20 Wine & Spirits and can be found in nowhere in the world but there.
Besides offering extended hours to better serve their customers, 5&20 Wine & Spirits also gives a discount to First Responders and Senior Citizens on Mondays!  Plus, it is the only store of its kind in the area with a drive-thru, making the customer experience extra convenient and COVID-safe.  5&20 Wine & Spirits is open Monday to Saturday from 10 AM to 10 PM and Sunday from 12 PM to 9 PM, and is located at 2100 Route 5&20 in Seneca Falls.  Follow them on Facebook to stay up to date on future promotions and products: https://www.facebook.com/520liquorwine
The Seneca County Chamber of Commerce Business of the Month Program is sponsored by the Hampton Inn – Seneca Falls. Recipients are chosen on a monthly basis by the Chamber's membership community to recognize organizational excellence and/or significant accomplishments in their field. For more information about the Seneca County Chamber of Commerce or to inquire about membership in one of the region's leading professional organizations, please call (315) 568-2906 or visit www.senecachamber.org.
###