(Seneca Falls, NY) The Seneca County Chamber of Commerce and Hampton Inn Seneca Falls have recognized Fall Street Brewing / Finger Lakes Kombucha Co. of Seneca Falls as the November 2020 Business of the Month.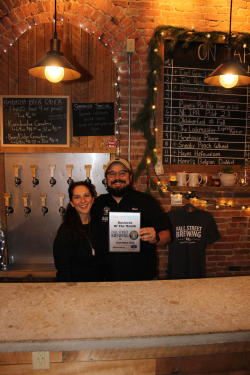 Fall Street Brewing is owned and operated by Brad and Anna Luisi-Ellis.  These young entrepreneurs started selling their kombucha tea at famers markets in 2018.  Then, with Farm Brewery License in hand and a gorgeously remodeled space, Fall Street Brewing officially opened doors in the Fall of 2019, joining the small but formidable network of breweries operating in Seneca County.  What makes Fall Street Brewing so unique is that it is Seneca County's only kombucha tea brewery.
"Celebrating the first anniversary is always so exciting for a business.  That first year presents so many challenges.  It is an especially gratifying feat this year amid the pandemic," praised Megan Slater, Membership Development Manager at the Chamber.  "Brad, Anna and their team have grown and accomplished so much in the past year, and we cannot wait to see what the coming years hold for them."
After having started with kombucha, they now also offer espresso, beer, wine, cider, and light fare.  "It's been important to be flexible," explained Anna. "We tried to be innovative to keep our doors open."  To keep up with the ever-changing state mandates, they created an online ordering system, added outdoor seating, and started offering to-go sales and curb-side pick-up.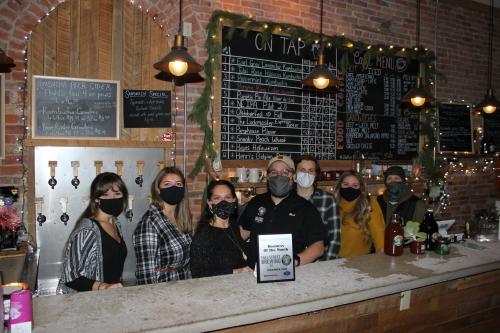 With its loyal fan base and involvement in the community, Fall Street Brewing is a welcome addition to downtown Seneca Falls.  Fall Street Brewing now provides jobs to five employees—up from zero a year ago.  And keep a look out for some special deals for the beloved annual "It's a Wonderful Life" celebration.  Plus, Brad and Anna are both teaching this year in local school districts on top of running and growing their new business.  If that doesn't say, "Superhero," what does?
Fall Street Brewing is open Wednesday and Thursday from 9 AM to 6 PM; Friday and Saturday from 9 AM to 9 PM; and Sunday from 9 AM to 5 PM.  Check out the website here: https://www.fallstreetbrewing.com/
The Seneca County Chamber of Commerce Business of the Month Program is sponsored by the Hampton Inn – Seneca Falls. Recipients are chosen on a monthly basis by the Chamber's membership community to recognize organizational excellence and/or significant accomplishments in their field. For more information about the Seneca County Chamber of Commerce or to inquire about membership in one of the region's leading professional organizations, please call (315) 568-2906 or visit www.senecachamber.org.