The Seneca County Chamber of Commerce and CFCU Community Credit Union have recognized Hosmer Winery of Ovid as the March 2022 Business of the Month.
"The vineyards at Hosmer Winery were first planted in 1972, making this year their 50th anniversary.  We are thrilled to celebrate this milestone with Hosmer Winery and to witness all the future accomplishments in the next half of the century," Megan Slater, Membership Development Manager at the Chamber. 
Pictured below: Hosmer Winery owner Cameron Hosmer (left) is presented the Chamber's March 2022 Business of the Month Award by Boundary Breaks Winery owner and Chamber Board member Bruce Murray during the Chamber's March Business After Hours event.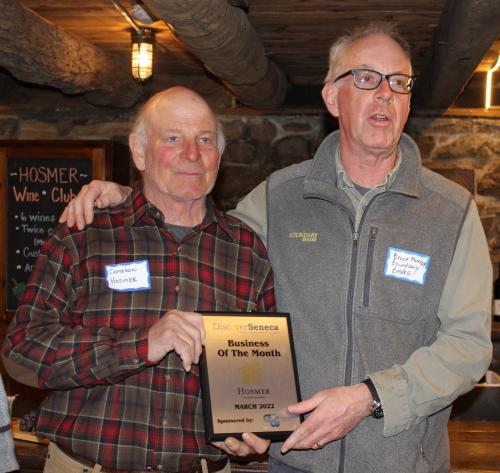 The Hosmer family played an instrumental role in helping to form the Cayuga Lake Wine Trail in 1983, thus creating America's first wine trail!  Shortly after, in 1985, Hosmer Winery was established.  Today, guests are coming in from all over the country—and other countries too—to taste Hosmer wines.  Even dogs are welcome inside the winery, and their owners can purchase Chardonnay lookalike squeaker toys.  That way, nobody is left out of the fun.
Hosmer Winery is a full estate winery, meaning that they grow all of the grapes that they use in their wines.  A large variety of sweet and dry wines are available, including the rare Sauvignon Blanc.  That's right, Hosmer Winery is one of only two wineries on Cayuga Lake to make Sauvignon Blanc, as it can be a finicky grape.  This May, Hosmer Winery will be releasing a special 50th anniversary cuvée, a methode champenoise blend of Pinot Noir and Chardonnay called Aureus, named after a golden Roman coin in honor of their golden anniversary. 
Hosmer Winery is located at 7020 Route 89 in Ovid and is open 10 AM to 5 PM Monday to Saturday, and 11 AM to 5 PM on Sundays, offering seated tastings to groups of 6 or fewer people.  Summer hours start in May, during which time the winery is open an extra half-hour Monday to Saturday.  Once nicer weather starts to stick around, groups of up to 10 will be accepted and flights will be offered as well.  To learn more, visit:  https://hosmerwinery.com/
The Seneca County Chamber of Commerce Business of the Month Program is sponsored by CFCU Community Credit Union. Recipients are chosen on a monthly basis by the Chamber's membership community to recognize organizational excellence and/or significant accomplishments in their field. For more information about the Seneca County Chamber of Commerce or to inquire about membership in one of the region's leading professional organizations, please call (315) 568-2906 or visit www.senecachamber.org.