(Waterloo, NY) The Seneca County Chamber of Commerce and Hampton Inn Seneca Falls have recognized Pilat Graphic Design Inc. of Waterloo as the October 2020 Business of the Month.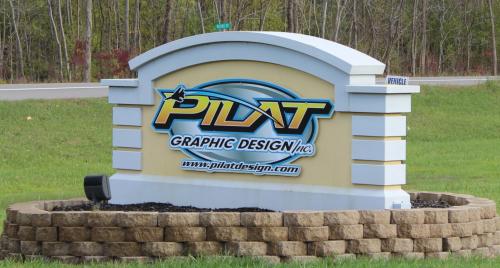 "We are thrilled to acknowledge the positive impact that Pilat Graphic Design has had on our community for over two decades," Megan Slater, Membership Development Manager at the Seneca County Chamber of Commerce.  "I've seen first-hand how quickly Dan and his team can turn an idea into a beautiful piece of art."
Since 1995,  Pilat provides design services, digital printing, signs, decals, wraps, banners and more across the United States and Canada.  Pilat's work can be seen on vehicles, trailers, helmets, buildings and beyond!
"Besides its noticeable presence in the community, Pilat's Kindness Pledge stood out this month," added Slater.  Recently launched, the Kindness Pledge aims to spread kindness, compassion, and respect in the Finger Lakes region.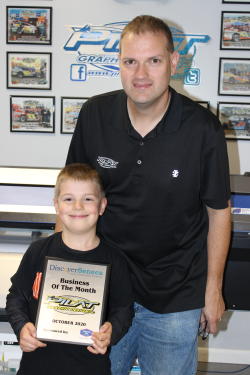 Pilat has created three different yard signs with messages of kindness and compassion.  These signs are for sale for $15 each, and $10 from each sign is being donated to two local charities: Trevor's Gift of Waterloo and Safe Harbors of the Finger Lakes.  Thus, the Kindness Pledge is not only spreading kind messages and positivity, but its proceeds are going directly back into the community through organizations that combat child hunger (Trevor's Gift) and domestic violence (Safe Harbors)—two service areas that are indeed paramount, now more than ever.
To order a sign or learn more, email Dan at: dan@pilatdesign.com, call the office at: 315-539-3484, or stop by the office at 1778 State Route 414 in Waterloo.
The Seneca County Chamber of Commerce Business of the Month Program is sponsored by the Hampton Inn – Seneca Falls. Recipients are chosen on a monthly basis by the Chamber's membership community to recognize organizational excellence and/or significant accomplishments in their field. For more information about the Seneca County Chamber of Commerce or to inquire about membership in one of the region's leading professional organizations, please call (315) 568-2906 or visit www.senecachamber.org.
###