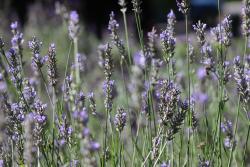 (Seneca Falls, NY) The Seneca County Chamber of Commerce and Hampton Inn Seneca Falls have recognized Rue Claire Lavender Farm and Artisan Chocolate of Lodi as the July 2020 Business of the Month.
Rue Claire officially opened its doors to customers in 2010, marking 2020 as its decennial celebration!  At the time, Rue Claire allowed customers to pick their own lavender from the farm, offered them premier, artisan chocolates that are handcrafted with in-season ingredients.  Since then, Rue Claire has expanded to add the Bubblery—a champagne bar where guests can enjoy drinks made from local, organic fruits and herbs.  And new this month is a glamping (glamorous camping) site called Bin 414, complete with a wine barrel inspired cabin, outdoor kitchen, fire pit, and nature spa.
Owner Claire Benjamin has been formally trained as a chocolatière (a chocolate maker) in Montreal and France.  Rue Claire, like its Parisian namesake (Rue Cler, a famous street market) provides guests with an authentic, delectable experience.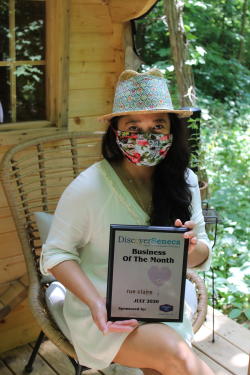 Rue Claire is also an involved community partner, working directly with a growing network in the agricultural industry to trade goods and ideas to support each other.  Not only that, but when the COVID-19 pandemic hit, Rue Claire launched a fundraiser called Grub for Scrubs, which encouraged social distancing, supported local restaurants, and fed healthcare workers.  In the future, Rue Claire plans to include a nature trail, and proceeds will go towards efforts to save the bees.
The Chamber got a behind the scenes look at the glamping expansion and some extra insider scoop during a Q&A session with Claire when she was presented with the Business of the Month Award.  The video can be watched here.
To learn more about this unique and cultured business, visit the website at www.RueClaire.com or call 702-897-8909.
The Seneca County Chamber of Commerce Business of the Month Program is sponsored by the Hampton Inn – Seneca Falls. Recipients are chosen on a monthly basis by the Chamber's membership community to recognize organizational excellence and/or significant accomplishments in their field. For more information about the Seneca County Chamber of Commerce or to inquire about membership in one of the region's leading professional organizations, please call (315) 568-2906 or visit www.senecachamber.org.