(Waterloo, NY) The Seneca County Chamber of Commerce and Hampton Inn Seneca Falls have recognized Sheldrake Point Winery of Interlaken as the April 2021 Business of the Month.
"We are impressed by the elegance with which Sheldrake Point has overcome the hurdles associated with the COVID-19 pandemic.  They are celebrating their 20th anniversary since making their first vintage, and they just opened back up for tastings on April 15th.   Now is the perfect time to recognize their journey, merit and commitment to the community," Megan Slater, Membership Development Manager at the Chamber.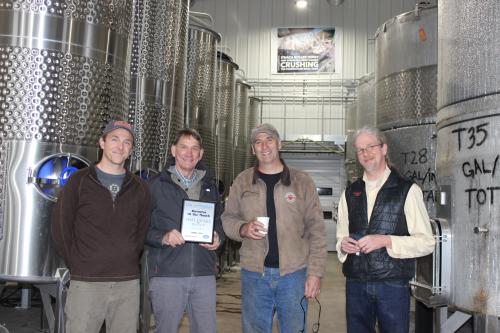 Sheldrake Point Winery is committed to sustainably producing distinctive estate wines and presenting them in a way that is educational, relaxed and enjoyable to guests.  Before the new state regulations were put in place during COVID, the wine tasting experience at Sheldrake Point was similar to that of many other wineries:  the bar would get crowded with guests all trying to do tastings at once.  Now, it is all seated tastings and flights.  "This new format—we fell into it because of COVID, but it speaks more to our mission anyway!  We have more time to engage with guests.  It's a more personalized approach," explains Chuck Tauck, co-owner since the business was founded in 1997.
"One of the beautiful things about our region is that it is cooperative and collegial," Tauck, referring to the Finger Lakes wine industry.  Sheldrake Point grows 60 acres of vines but only uses about half to make their own wines.  Their grapes are in high demand because they have a reputation for growing quality fruit.  Not only that, but they also provide wine-making services to entrepreneurs who, generally, have a label but do not have a winery.  These partnerships help to enable the next generation of wine makers.
One thing that sets Sheldrake Point apart from several other wineries is its location on Cayuga lake with dock access.  Additionally, Sheldrake Point's Dry Rose is the best-selling in the Finger Lakes!  It is the most recognized and consumed of Sheldrake Point's wines, which was not premeditated.  "It just happened.  Demand was just so high!  We kept selling out, so we kept making more," described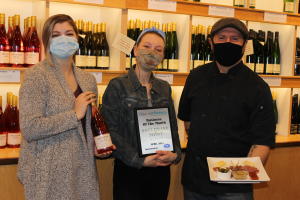 Tauck.  Another wine that does well in the market is the Gammay Noir, and Sheldrake Point is one of the few that produces it.  Particularly popular among restaurant customers, Gammay Noir is a great food pairing wine, and it is different than the standard Cab Franc or Chardonnay.
Sheldrake Point Winery is open 12 PM – 5 PM every day.  There will be events coming soon, but they are generally for Wine Club Members only.  Wine Club Membership includes two shipments per year, each containing 6 bottles of wine.  Wine Club Members also enjoy 20% off all in-store and online purchases.  See website for more details:  https://sheldrakepoint.com/
The Seneca County Chamber of Commerce Business of the Month Program is sponsored by the Hampton Inn – Seneca Falls. Recipients are chosen on a monthly basis by the Chamber's membership community to recognize organizational excellence and/or significant accomplishments in their field. For more information about the Seneca County Chamber of Commerce or to inquire about membership in one of the region's leading professional organizations, please call (315) 568-2906 or visit www.senecachamber.org.
###