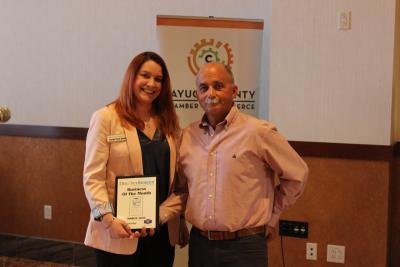 (Seneca Falls, NY) The Seneca County Chamber of Commerce and Hampton Inn Seneca Falls have recognized the Waterloo Library and Historical Society as the March 2020 Business of the Month. 
This month, the Waterloo Library Association is celebrating its 190th birthday and its 144th anniversary of incorporation with the Historical Society!  Furthermore, the Waterloo Library and Historical Society (WLHS) has been operating out of its original permanent structure since 1880, making it one of the oldest of its kind in the nation.
WLHS provides numerous programs and services for community members of all ages.  Some of the most popular programs are Arts and Crafts, Book Club, Messy Story Time, and Growing Tween.  WLHS also provides free coffee every day to its visitors, and recently participated in Leap of Kindness Day by giving out flowers and stickers to the community.  WLHS is involved in Waterloo's Image Identity and Public Space (IIP) Committee—a group focused on downtown Waterloo's revitalization—by hosting meetings and volunteering at events.
"We really appreciate WLHS's involvement in the community and its commitment to making Waterloo an even better place to live and visit," praised Megan Slater, Membership Development Manager at the Seneca County Chamber.
WLHS looks forward to continuing to serve the community in a bigger and broader way than ever imaged 190 years ago.
The Seneca County Chamber of Commerce Business of the Month Program is sponsored by the Hampton Inn – Seneca Falls.  Recipients are chosen on a monthly basis by the Chamber's membership community to recognize organizational excellence and/or significant accomplishments in their field.  For more information about the Seneca County Chamber of Commerce or to inquire about membership in one of the region's leading professional organizations, please call (315) 568-2906 or visit www.senecachamber.org.