Assemblymen Jeff Gallahan, Scott Gray, & Phil Palmesano visit Muranda Cheese, Three Brothers Winery, and del Lago Resort & Casino to discuss local tourism in the Finger Lakes Region, hosted by the Seneca County Chamber
On August 14, Assemblyman Jeff Gallahan hosted a visit where Assemblymen Scott Gray and Phil Palmesano were able to visit and discuss the local tourism industry.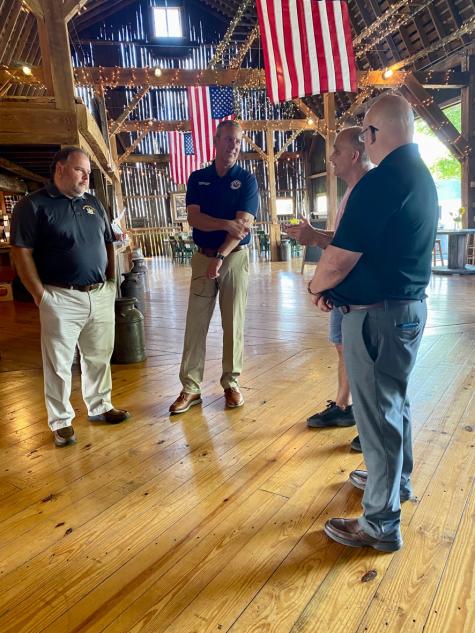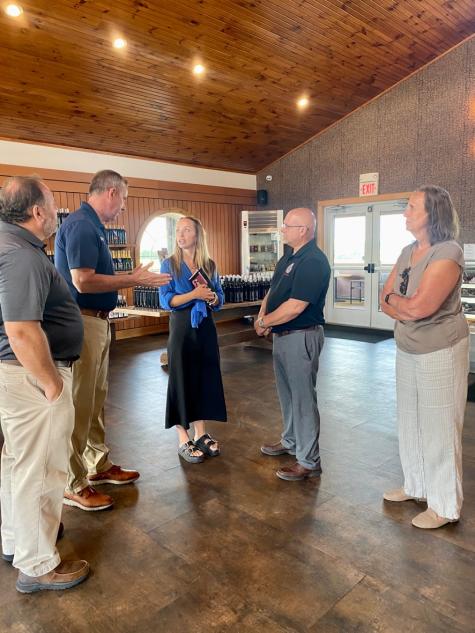 Left: Assemblymen Phil Palmesano, Jeff Gallahan and Scott Gray speak with the owner of Muranda Cheese, Tom Murray. Right: Assemblymen speak with owners Luanne Mansfield and Erica Paolicelli of Three Brothers Winery & Estates.
Muranda Cheese
The Assemblymen first visited Muranda Cheese, where they were greeted by owner Tom Murray. A tour was given by Murray, who discussed some of the issues with infrastructure he feels he's experienced as a local business owner.
Murray describes his success as a "joint effort" between his business and the local wine industry. Muranda Cheese recently teamed up with Three Brothers Winery to create a joint alcoholic beverage you can purchase on a visit to Muranda Cheese. Murray explained that this past Sunday, with no advertising, they saw an estimated 300-400 visitors. Their connection with Taste NY has been strong and beneficial in driving traffic to the business. Murray described their start as someone stopping by to "try some cheese one time" and the concept taking off from there. Currently, they employ 24 part-time employees and 6 full-time employees, with plans to hire two more employees soon. Murray explained that he felt blessed to be doing business in a region where they have great partners and legislators who care.
One of the biggest issues discussed between the Assemblymen and Murray was access to water.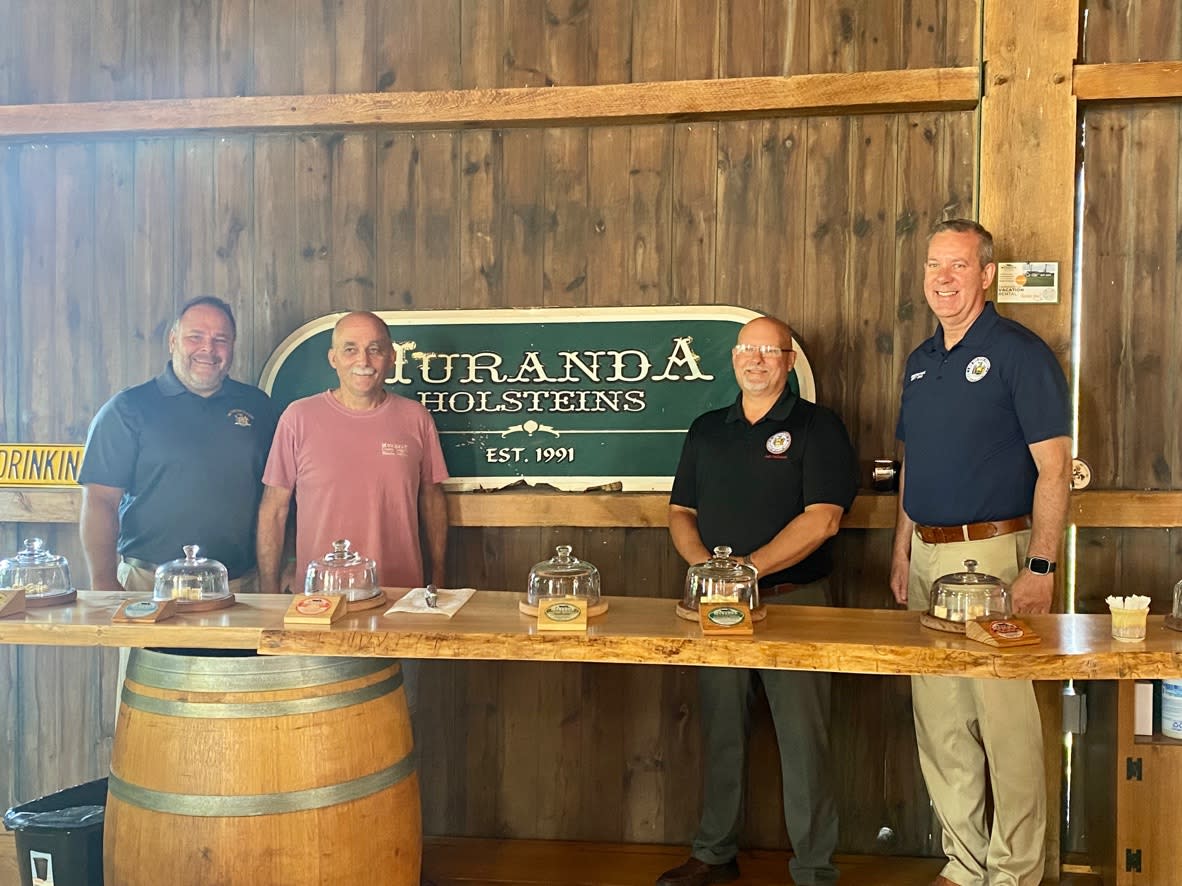 Three Brothers Wineries and Estates
After visiting Muranda Cheese, Assemblymen Gallahan, Gray, and Palmesano visited Three Brothers Wineries and Estates where they met owners Luanne Mansfield and Erica Paolicelli.
Three Brothers currently employs 50 full-time employees and 150 part-time employees. For about 7-8 months after the big holiday celebration, the wineries have very little traffic. This is when the 50 full-time staff members work to keep everything running, and it can become expensive for them to keep going in the winter.
COVID-19 brought on a lot of changes for business in the wine and tourism industry, but Paolicelli said their ability to adapt has been great.
What was once a large estate with multiple locations and packed bars seeing, at times, thousands of people per day has become a sit-down establishment. Three Brothers was able to expand their outdoor and patio areas to keep up with changes, and now it's their preferred method of providing services. This comes with challenges as well, like training staff on selling bottles of wine since customers are now seated and served.
Paolicelli shared that many grants have been available that make running a business like Three Brothers more sustainable, but there are some issues that harm the industry as well. This includes issues brought on by the Bottle Bill as well as the movement to change the laws surrounding BAC levels, requiring them to be 0.
Some of the biggest issues, like at Muranda Cheese, included access to water. Where Three Brothers has an opportunity to provide more lodging, they simply can't right now because they need better access to water and sewage.
Housing in Seneca County was also listed as an issue; with no housing, there are few people to become employees.
Three Brothers was able to bounce back after their loss of Bagg Dare, a winery focusing on sweet wines and a bayou theme. The building has since been rebuilt by the same builder who constructed the first one. There are even burnt items pulled from the fire during the first building hung in the new building.
When asked by Assemblyman Gray if NYS Marketing has been beneficial, Paolicelli said it has been.
For Three Brothers, housing, lodging, and water were some of the biggest issues named.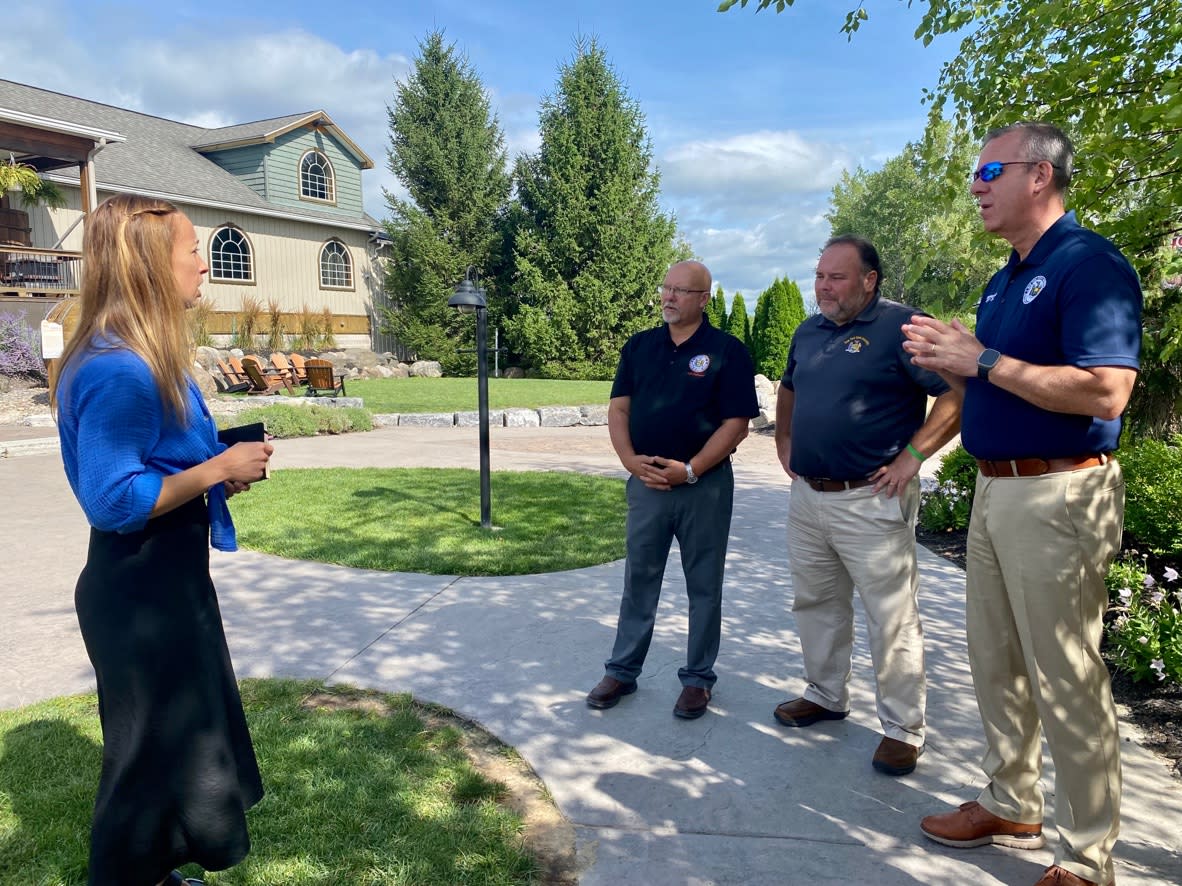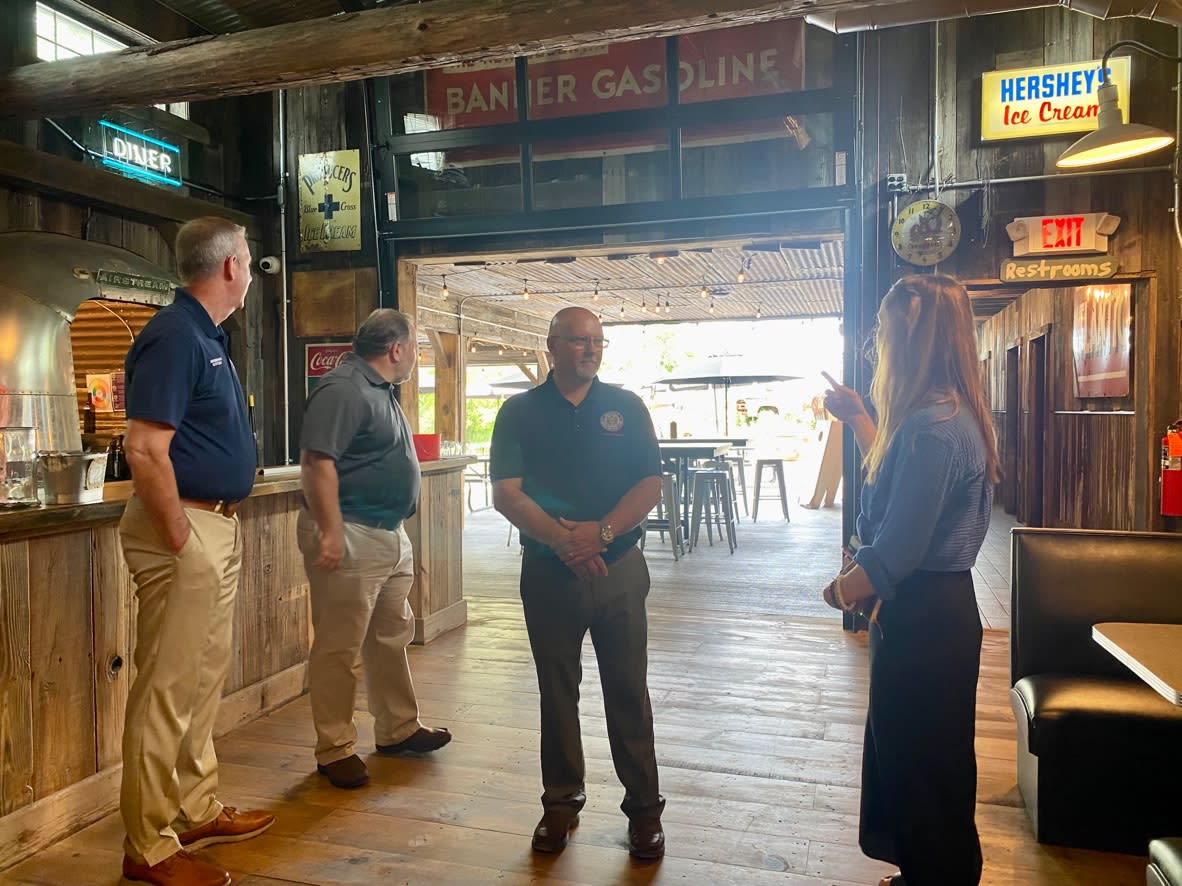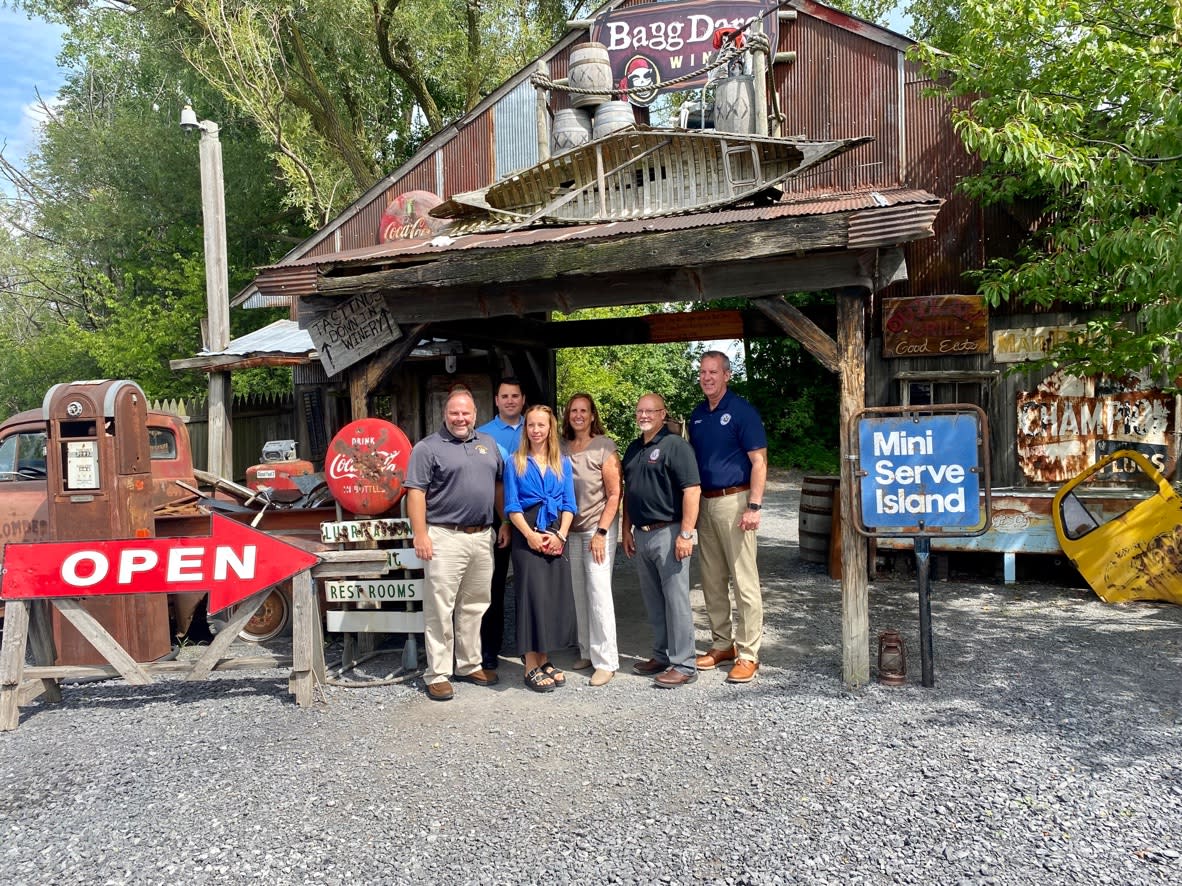 del Lago Resort & Casino
The Assemblymen were greeted by General Manager Lance Young at their final stop, del Lago Resort & Casino. Here, they were given a tour of the business before stopping for lunch and a roundtable discussion.
During the discussion, Young described how the casino was designed to be wide and open for walking. 
Portico by Fabio Viviani, one of the biggest high-end restaurants available to eat at in the casino, was one of Viviani's first restaurant partnerships. The restaurant gets its food locally, including its steaks which are brought in from Rochester, NY.
Most recently, del Lago has hosted viral comedian Matt Rife, who sold out his shows almost immediately. People traveled from as far away as Florida to visit the resort and casino just to see Rife. Since the sell out, del Lago has added even more shows for Rife in the future.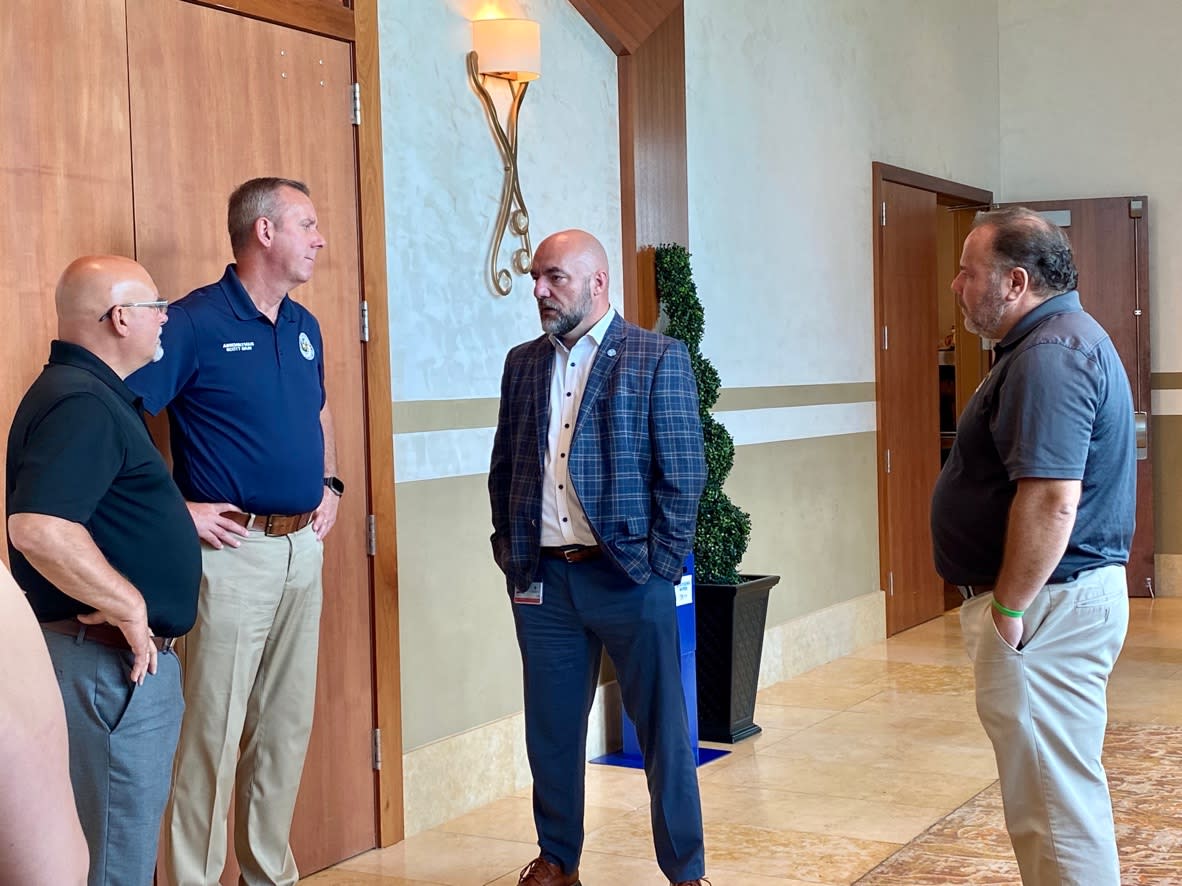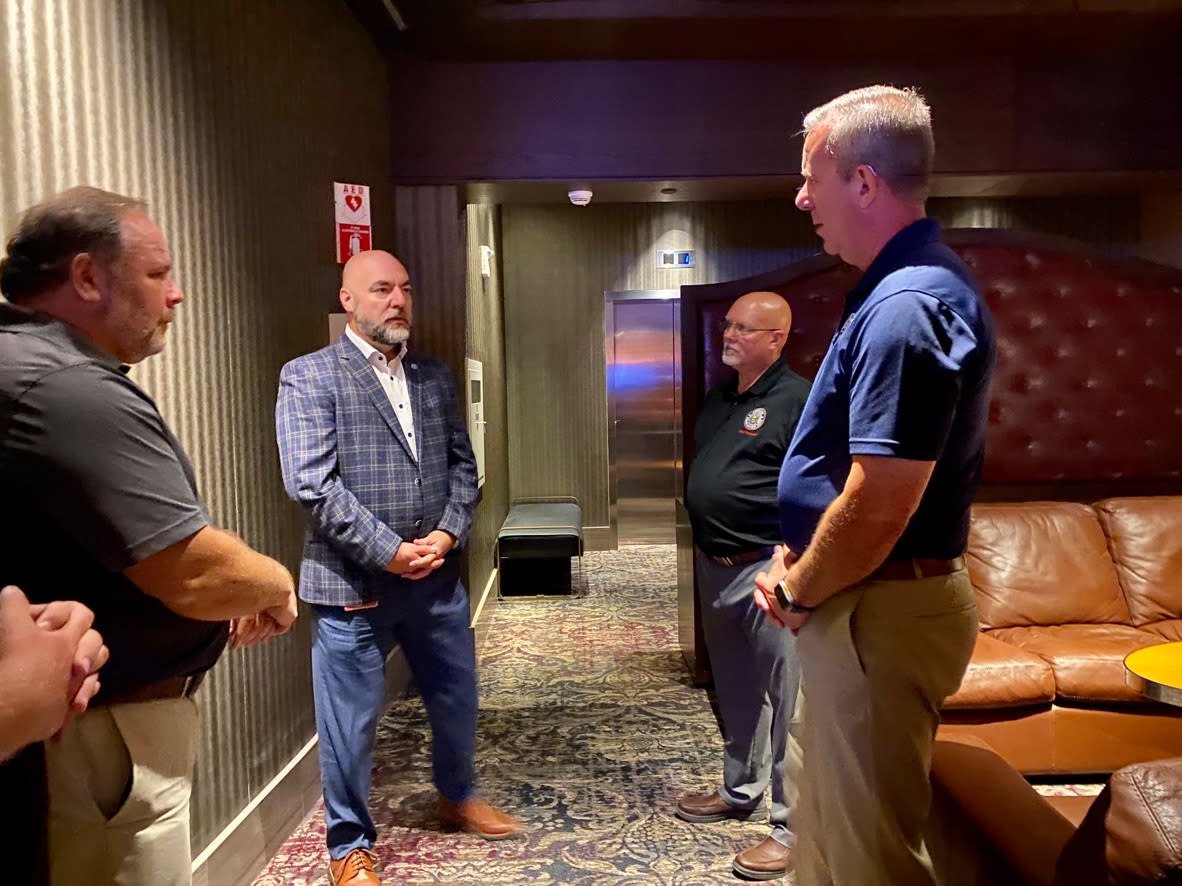 Roundtable Discussion Lunch
The main event of the day was the roundtable discussion, hosted by all three Assemblymen and the Seneca County Chamber of Commerce.
Some of the biggest issues discussed during the lunch included many of the same issues listed by local owners on the prior visits: housing, access to water, lodging, and employment issues. In addition to these issues, some businesses shared they weren't able to benefit from grant programs created to help build their businesses and that there were too many obstacles to be able to qualify or simply obtain the help.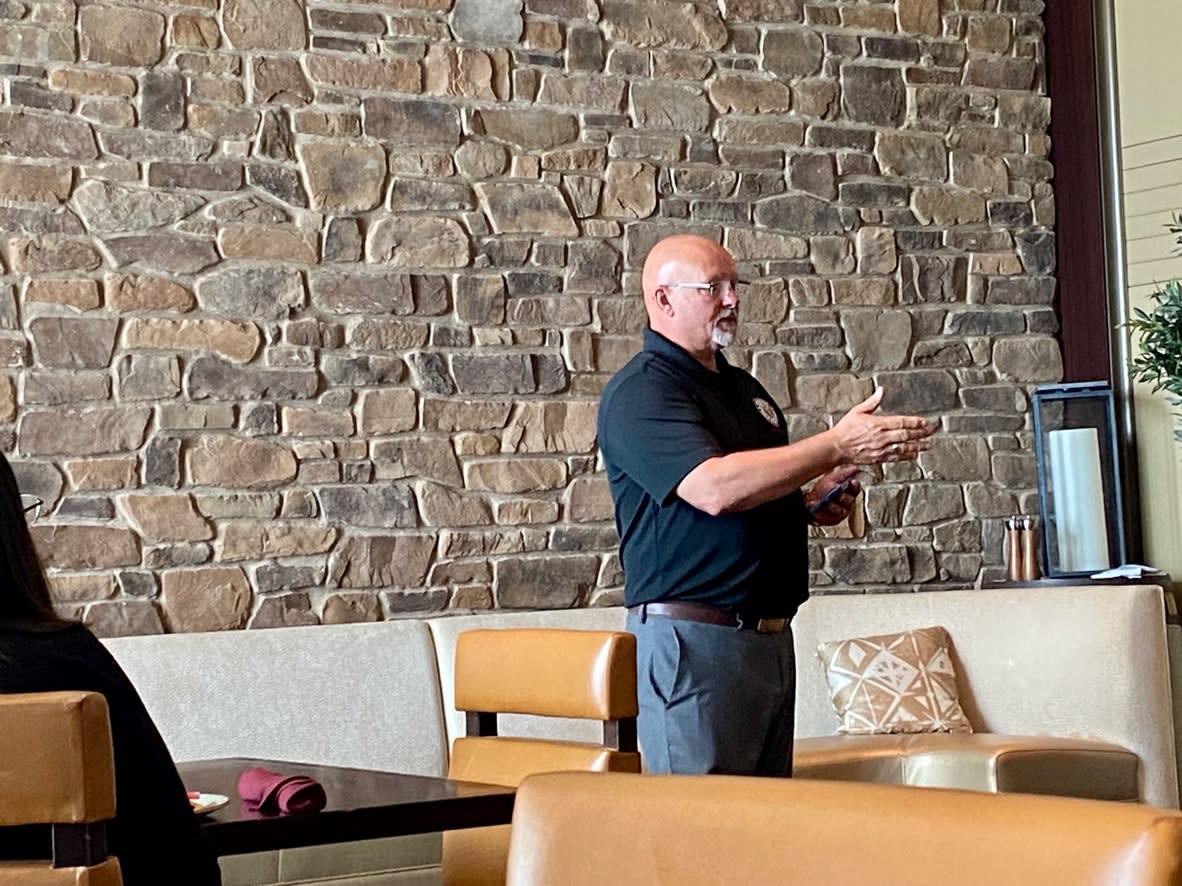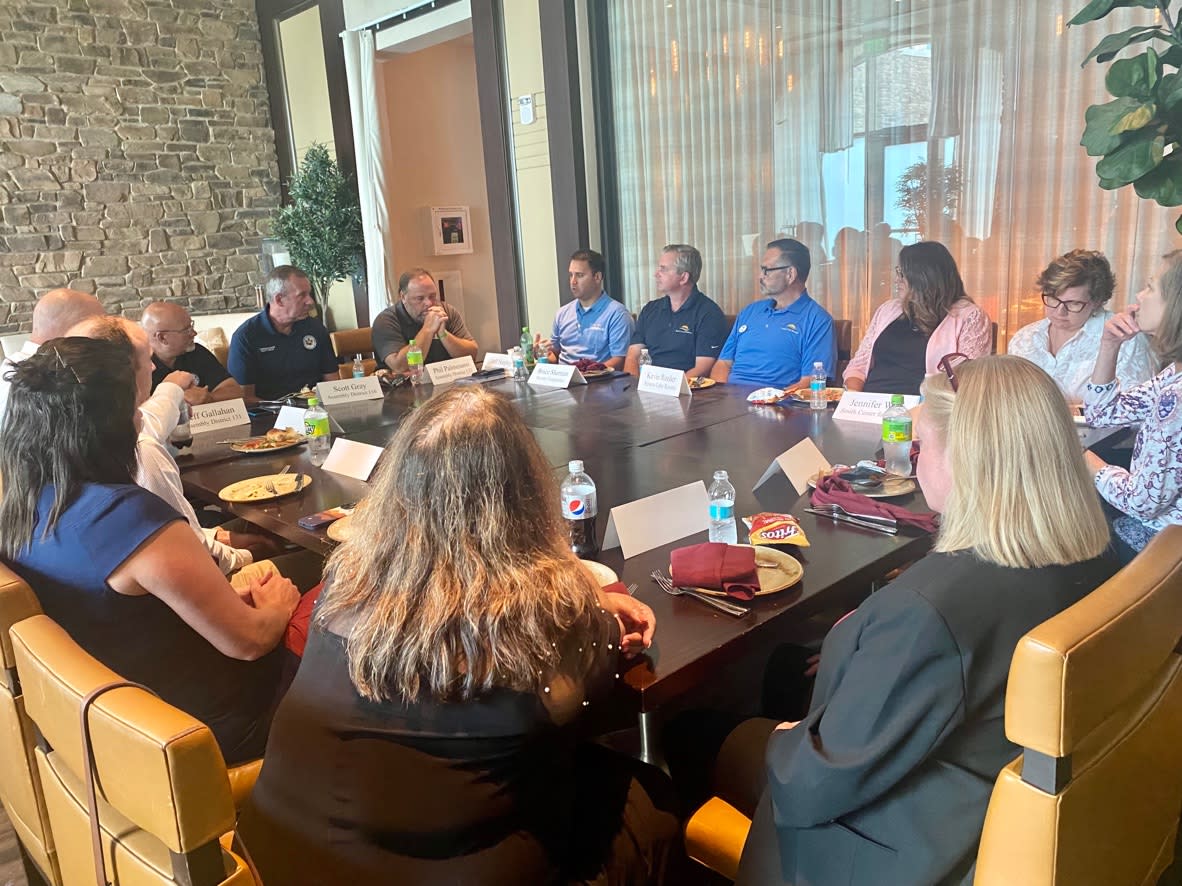 The event was hosted by Assemblyman Jeff Gallahan with the help of Seneca County Chamber President & CEO Jeff Shipley. Board members Cheryl Santos, owner and operator of Cayuga Lake Cabins and Bruce Sherman, Director of Business Development and Marketing with Sessler, were both present for the visit.