(Ovid, NY) The Seneca County Chamber of Commerce has recognized Ovid Community Health as the September 2020 Business of the Month.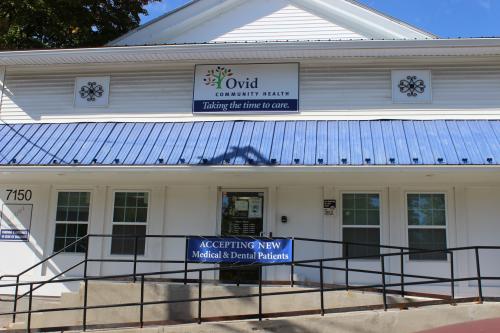 Since opening seven years ago, Ovid Community Health (part of the Finger Lakes Community Health network) has had a positive economic effect on the community and has demonstrated civic mindedness in many ways, which are some of the factors the Chamber considers when selecting its Business of the Month.  "Ovid Community Health was an absolutely perfect fit for these criteria, and we are thrilled to acknowledge such a hardworking and impactful group of heroes," Megan Slater, Membership Development Manager at the Chamber.
A true team player, Ovid Community Health has partnered with different organizations to realize various programs to improve the overall health and wellness of the community.  A recent notable example is the Fruit and Vegetable Prescription Program, made possible in partnership with Foodlink and SNAP-ED NY.  Patients take classes on topics such as "Healthy Eating on a Budget" or "The Importance of Physical Activity" and then receive vouchers to spend on fruits and vegetables at Big M Supermarket and other locations.  In addition, Ovid Community Health's patient navigator brings healthy food to patients who do not have transportation—an all-too-common issue for many local residents.
Alongside STEPS during outreach events at the senior housing complex, Verona Village, Ovid Community Health has encouraged residents to get regular check-ups and important health screenings.  They also partnered on youth projects in Lodi promoting environmental health.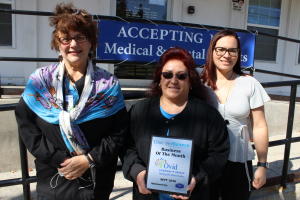 To help combat the global health pandemic, Ovid Community Health is now offering drive-up COVID-19 testing to anyone wishing to be tested—with or without symptoms—every Thursday.  With the help of STEPS, the United Way of Seneca County, and their network of volunteers, Ovid Community Health is collecting masks for patients.  Behavioral health is also paramount during these unprecedented times, and the telehealth services, which were already in place before, have expanded and are using the latest technologies.  To address another urgent issue, cancer screening, Ovid Community Health is offering mobile mammograms on scheduled dates through a partnership with Rochester Regional Health.
Ovid Community Health is open Monday through Friday and can be reached at (607) 403-0065.
The Seneca County Chamber of Commerce Business of the Month Program is sponsored by the Hampton Inn – Seneca Falls. Recipients are chosen on a monthly basis by the Chamber's membership community to recognize organizational excellence and/or significant accomplishments in their field. For more information about the Seneca County Chamber of Commerce or to inquire about membership in one of the region's leading professional organizations, please call (315) 568-2906 or visit www.senecachamber.org.
###