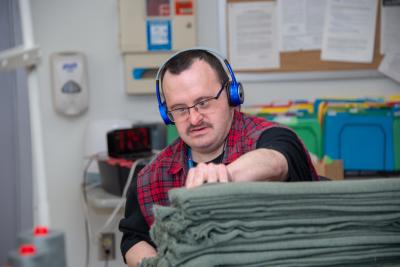 Nestled within a sprawling industrial campus on the edge of town, Finger Lakes Textiles has grown into one of the region's leading manufacturers -- a success story that reflects the true spirit of what it means to be "Made in America. " 
From the outside, the company may look different. The building's mirrored glass exterior is a unique (if not symbolic) architectural design that lets people see more of themselves in the world around them.  
Inside, the production area is a typical factory setting – albeit more bright and airy from the modern, open floor layout. There is activity all around. In one corner, giant knitting machines spool, spin and weave delicate threads into cloth. Across the room, rows of workstations are piled high with fabrics in need of hand-crafted attention.    
The talented employees are skilled in a variety of tasks that contribute to the company's lean manufacturing process. They are all cross-trained and able to quickly adapt to each day's production requirements. They work with laser focus and take great pride in the finished product – winter hats (both knitted and fleece). Every month, the business ships thousands of merchandise to customers all over the world. "It's very special," said Jill Grobelny, a worker from nearby Locke, NY. "It's a very special hat."   
The hats are indeed special. However, it has nothing to do with their shape, size or color – rather it's what they represent. Finger Lakes Textiles is an inclusive employer. Its workforce is an integrated mix of individuals with many levels of ability. For the last 25 years, it has been affiliated with the Arc of Seneca Cayuga, the region's largest provider of services to people with developmental disabilities.
"When a worker walks through our front door, it doesn't matter if they have a disability or not…I guess we all have a disability to some degree," explained Lisa Guernsey, the company's Director of Business Operations.  "Here, they're an employee and that gives them independence…the freedom to come to work and live the same life that we all do without even thinking twice about it." 
Ed Sayles, the Arc's Business Development Specialist, has witnessed the transformation of both the business and its employees. "It started as a way to find work for people who had various challenges," he said -- noting how a job helps define people as individuals. "No one ever dreamed that all of this was going to happen, but we quickly found out that these folks were really, really good at what they do," he added. 
The Americans with Disabilities Act (and its subsequent amendments) marked a major turning point for the company. The law established new criteria for federal work orders, enabling industries that employ high percentages of individuals with disabilities to better compete for government jobs. Today, Finger Lakes Textiles is a major producer of apparel for the United States military (Army, Navy and Air Force) as well as the Department of Corrections.
To facilitate their substantial growth trajectory, a major expansion is underway at Finger Lakes Textiles. In addition to adding more room for production and warehousing, the business is also expanding its capabilities through technology. A new digital cutting machine, similar to a giant cookie cutter that slices through raw fabric, provides the ability to quickly and efficiently mold a variety of new products. 
"Arctic Gear," the newest product line, is viewed as an important step in diversifying the company's revenue stream. Launched in 2018, the venture allows the business to commercialize its celebrated products to a much wider audience – through a variety of e-commerce sites and social media outlets.
To help raise awareness for Arctic Gear, a special promotional video was created that featured several celebrity endorsements of the cause. Within days of its release, the video went viral and accumulated more than 5 million views from around the world. "It's all about making a purchase for a purpose," explained Denise Osborne, the Manager of Marketing and Public Relations. "All of the proceeds from Arctic Gear are directed to vital services that help people continue their journey to independence. It is very inspiring."
Finger Lakes Textiles is a small business with a big heart. Their ability to embrace diversity and redefine the modern workforce has helped fundamentally change their organization and the perceptions that others have of it. When asked to describe the business and her work experience in one word, Jill Grobelny quickly responds by saying "family."