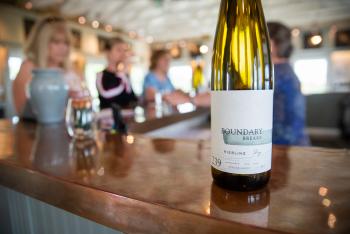 Bruce Murray has a knack for recognizing opportunity. Having lived nearly half of his life in New York City, and travelling the world extensively for work, the savvy businessman has learned a thing or two about trusting his instincts.
He acquired his professional experience from the publishing industry, starting in the newspaper business before migrating to online publishing and market research in the '90s. It was a visionary move, given how the Internet transformed the way people consume information. At the time, however, it was a chaotic period because no one really knew what would work. His path was a learning experience that provided him with an important lesson for future success - how to manage risk.
A decade later, while eating dinner at a Thai restaurant, the self-professed wine lover had an experience that would inspire him to pursue his biggest dream – starting a winery. "I had a Riesling that opened my eyes to what white wine could be," he recalled. "It resonated with me because it was like a diamond in the rough… I felt it was underappreciated."  
With a genuine desire to raise the profile of Riesling (and plan for his golden years), Bruce began to look for the perfect opportunity. "When you're working for big companies, you typically have to move aside in your mid-sixties," he says, noting his desire and ability to remain productive. "I felt that if you're trying to make a living, you need to find something that hasn't been entirely discovered."
His search led him to the Finger Lakes – a place once named "New York's secret wine region." Since the mid-'70s, it has developed a reputation for having ideal growing conditions to support wine-caliber grapes. Early pioneers experimented with many varieties to see what would work best. The cold-tolerant Riesling grape is thought to be particularly well-suited for the area. In fact, the size and depth of the region's lakes (created by glacial activity) moderate weather conditions near the shorelines and make it possible to grow the delicate fruit that would otherwise not survive cold winters.
Bruce and his wife Diana, a trained botanist, purchased a 120-acre farm on the east side of Seneca Lake (the region's deepest lake), not far from where they both grew up in Syracuse.  The area was their first choice – in part because of its superior ability to grow Riesling, as well as favorable economic conditions. "You can find real estate here that is relatively inexpensive and employees who are willing to work in the area," he says. "It isn't Napa -- people find it less intimidating and accessible."  
Everything about the operation was carefully planned from the start. While he knew enough about wine, Bruce admits that he didn't know the first thing about winemaking. He turned to the local wine community for help and received advice from some of the most respected professionals in the Finger Lakes (including fellow winery owners). "Had I not received that information as freely as they gave it – I would not be anywhere close to where I am now," he says.
With the knowledge gained from colleagues, Bruce and his vineyard team relied on state-of-the-art techniques to create some of the industry's most distinctive wine. They conducted research to determine which grape varieties produced the best style (dry, semi-dry and sweet) for their specific property. They installed deeper drainage pipes to ensure dryer soils and create healthier, more resilient vines. They adopted an innovative trellis system (needed to support the vines) and used intricate pruning methods to maximize sun exposure for each grape – thus increasing their harvest yields. 
The vineyard itself took shape in 2008, with six acres of Riesling vines. The grapes were planted strategically, within the defined boundaries of the property – marked by its distinctive slopes or "breaks" in the land. In 2010, another six acres of crops were planted. By the following year, the new business, aptly named "Boundary Breaks," had its first harvest and produced enough juice to make 1,000 cases of their signature Riesling wine.
    
The business began, quite literally, "outside the box." It opened without a tasting room – an unusual approach to traditional sales and marketing for a winery. Their strategy was to create buzz among Riesling enthusiasts and sophisticated wine critics in the lucrative New York City market. The majority of their sales came from shipping product to downstate wine shops and restaurants. "That gave us the kind of visibility early on that turned out to be very fortunate," Bruce says.
Since its opening, Boundary Breaks has emerged as an industry leader for Riesling. It now produces roughly 10,000 cases of wine each year, making it an average-sized winery by regional standards. The goal is to scale to around 25,000. They ship internationally, as well as to 25 different states -- the government of Norway is among their growing customer base. Boundary Breaks Riesling has been recognized twice in the industry's premier trade publication – Wine Enthusiast magazine – for being among the world's top 100 wines.
While they produce other varieties (Chardonnay, Gewurztraminer, Rose and other Reds), Riesling is the main attraction for visitors to the winery (and the region). "It really is the Finger Lakes brand that we are developing," Bruce says. "Good wine is made in the vineyard. You can't make this kind of wine just anyplace." It is a message that he has been delivering for a while now, one sip at a time, to those willing to expand their palate…and be a Boundary Breaker.