Casey Galloway
Owner, Cafe XIX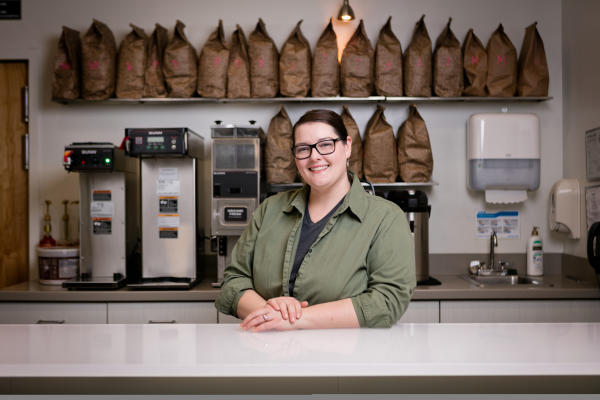 Breakfast, Lunch and History Served at Cafe 19
Casey Galloway discovered the sweet spot when she mixed food with history at Cafe 19 in Seneca Falls.
The cafe—named for the 19th amendment granting women the right to vote—honors the matriarchs of the women's suffrage movement. And the family matriarchs who stirred Galloway's love of cooking.
Her maternal grandmother owned a restaurant, famous for its veal cutlets and homemade pies.
"When she was doing that, it was two generations ago and women had less rights than we have now," said Galloway, owner and executive chef of Cafe 19. "My grandmother was taking care of three children while running a restaurant six days a week and making everything from scratch."
"I've always been very inspired by what she did," she added. "Liking to cook runs in our blood."
Galloway was 8 years old when her grandmother passed away, so they never had the chance to cook together. She did, however, cook a lot with her mom, who was a vegetarian for much of Galloway's childhood.
"We tried different things because my mom liked to experiment with food, and supplement ingredients since she wasn't eating meat," she said.
As a result, Galloway learned how to be creative in the kitchen.
In 2012, Menzo Case, president of Generations Bank and a family friend, approached Galloway about opening a cafe next to the bank's new headquarters on East Bayard Street in Seneca Falls.
At the time, she was housekeeping manager at the Inns of Aurora, and a former sous chef there.
"It was a great position and I learned a lot, but I really wanted to be cooking," said Galloway, who earned a culinary arts degree from Paul Smith's College and has extensive experience in the local food industry.
Galloway and Case worked together to develop the concept for Cafe 19, which opened in December 2013.
"We wanted a theme that was inspiring to people," Galloway said.
And one that made history more accessible.
"We thought the 19th amendment was all-encompassing," she said, noting that the name Cafe 19 provokes a conversation among children and adults alike.
Inside, the walls are decorated with colorful, pop art-style portraits of women's rights leaders, including Susan B. Anthony, Elizabeth Cady Stanton, Harriet Tubman, Amelia Bloomer, and Julia Ward Howe.
Anthony's image adorns employees' shirts, and the shop's tote bags and travel mugs.
Across the street from the cafe is the landmark statue, "When Anthony Met Stanton," which commemorates the moment Amelia Bloomer introduced the two famous suffragists.
Featuring Finger Lakes food
Galloway is equally committed to spotlighting local foods along with local history at Cafe 19.
She uses local meats and cheeses, and all of the produce is sourced from New York state, including regional growers. Finger Lakes Farms supplies the eggs. Coffee comes from Finger Lakes Coffee Roasters and Cobblestone Coffee Roasters.
"We use as many local products as we can," said Galloway, who prides herself on using real, wholesome ingredients in her dishes.
"It's not just the atmosphere, but the quality of the product we serve that brings people in," she said. "I feel like I would be doing a great injustice to the women on our walls if we weren't serving the best products."
Among the most popular dishes are the veggie breakfast burrito, avocado toast, and the black bean burger. The giant cinnamon buns are a big hit, too.
In recognition of the 100th anniversary of the 19th amendment, Cafe 19 has introduced a new coffee branded the "Equality Roast." The product is a collaboration with woman-owned Cobblestone Coffee Roasters, and its package features an image of Susan B. Anthony.
Galloway credits the community for helping her business thrive. She said the cafe enjoys regular support from area employers, school teachers, and students at New York Chiropractic College, among others.
"I'm blown away all the time that we have such a diverse group coming in," she said. "I have been amazed year after year at the support from the community."
She also acknowledges her staff for upholding her commitment to quality; her husband, Chris who has always encouraged her to pursue her dreams; and her parents, who are frequent customers.
Galloway is compelled to not only honor the women who came before her, but also to be a positive role model for future generations, including her 12-year-old daughter, Rylee.
"The example that I'm setting for her, showing her what hard work and determination looks like, is important to me," she said. "If you set goals and work hard, you can accomplish really amazing things."