Cheryl Santos
Owner, Cayuga Lake Cabins/CLC Tours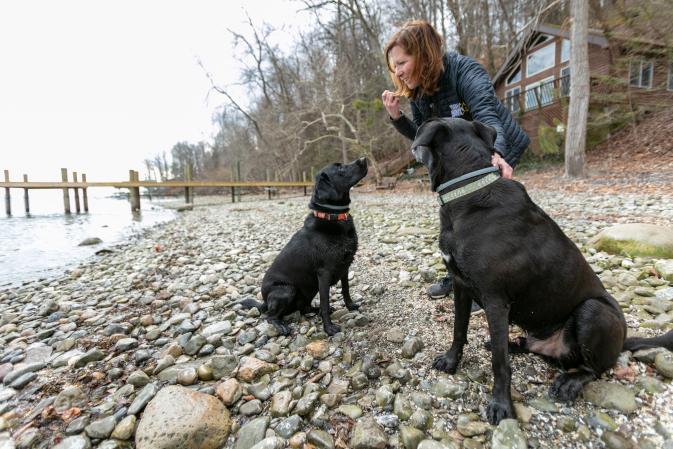 A Place to Stay for a Week and a Lifetime
Cheryl Santos was raised in Massachusetts, moved to California in her 20s, and then sailed on a 35-foot sloop from the Sunshine State to the Aloha State of Hawaii, where she lived before moving to the Finger Lakes in 2002.
"We came here to start a new life together," Cheryl said of her and her husband and business partner, Jim Santos.
Cheryl wanted a home that was near water. She found it on Cayuga Lake.
Over time, the couple bought 3.5 acres of property across the street, and built a trio of luxury-style log cabin vacation homes.
Cayuga Lake Cabins opened in 2015 with two cabins. The third, and largest, was added in 2019.
Jim designed and built all of them.
"Jim had a strong vision that this was going to be successful," Cheryl said.
Cayuga Lake Cabins is centrally located on the Cayuga Lake Wine Trail, on the west side of Cayuga Lake.
"The backdrop is centuries-old waterfalls and gorges," said Cheryl. "Now, the big draw is the wineries, craft beer and cider, and cheese tastings."
Within 10 miles of the cabins are 10 wineries, a distillery and a cider house.
The cabins feature a traditional rustic exterior with a modern interior. Each one sleeps up to six people, offers private bedrooms, a fully-equipped kitchen and spacious dining area. Ample amenities include radiant floor heating for the cooler months, air conditioning for the warmer months, flat-screen TVs, free Wi-Fi, and bed and bath linens.
"The idea was to make the cabins a home away from home," said Cheryl. "People bring things from home and find they don't need to unpack them because everything is here."
The cabins are open year-round and are dog-friendly. Nearly 40 percent of guests bring their dogs, said Cheryl, who has three lab mixes.
Outside the cabins is a large common area with a fire pit, because no cabin experience is complete without s'mores.
"People who don't know each other gather around the fire pit and they're friends by the end of the night," said Cheryl. "It's a joy to watch."
Guests also have lake access via the Santoses' property across the street. There they can enjoy the covered pavilion, a large deck and dock, and use the provided kayaks.
Future plans include developing the old logging road behind the cabins into hiking trails.
'A beautiful little piece of heaven'
Cheryl and Jim had no prior experience in lodging when they opened Cayuga Lake Cabins.
"We just dove in," said Cheryl. "I continue to fall in love with the Finger Lakes because I keep discovering new things. I love being able to share that with people."
The Santoses have welcomed guests from 25 of the 50 U.S. states, Canada, Europe and Australia. Most live within a five-hour drive of the property. Fifty percent are from Pennsylvania.
"Pennsylvanians love the Finger Lakes," Cheryl said.
They are booking an increasing number of repeat customers. Among the regular guests are participants in the annual Wine Country Circuit Dog Show at Sampson State Park.
Cheryl said they are also getting more multiple cabin bookings by large families and groups of friends.
And they are earning rave reviews. Guest comments include, "By far the nicest cabins we've ever stayed in," and "The owners are so nice and welcoming… the cabins are luxurious and comfortable, and the location is unbeatable."
Another person said the Santoses "have built a beautiful little piece of heaven."
The region's diverse offerings have made Cayuga Lake Cabins a success, Cheryl said.
"We are the ambassadors but I can't give us all the credit," she said. "It's the Finger Lakes and all the region has to offer. There are so many things people come here for. The wineries, the natural scenic beauty, the history, museums."
In 2017, the Santoses launched a second business, CLC Tours. With their 14-passenger van, Jim and Cheryl offer guided tours along the Cayuga, Seneca and Keuka Lake Wine Trails.
Much of their focus now is on growing that business.
"We have an in-depth knowledge of the wineries in the area," said Cheryl. "We suggest itineraries—it's one of the things I love doing—and we put a lot in the mix."
"We'll take them to Taughannock Falls for a photo op," she said. "We'll stop for lunch at Knapp Vineyard Restaurant, The Bistro at Thirsty Owl, or Finger Lakes Cider House, for example. We'll add a craft beer or cider stop."
It's not just a safe way to experience the Finger Lakes, but a fun one too.
And that, Cheryl said, is the best part of it all.
"We love when people take the time to share their experience and give us feedback," she said. "That's why we do what we do and work hard to give people a great experience in the cabins and in visiting the Finger Lakes. It brings us great joy."