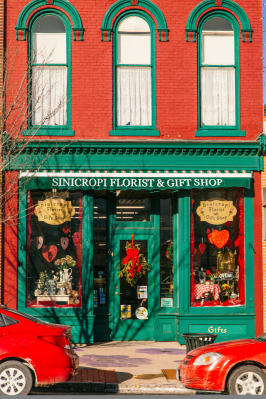 For more than 40 years, the Sinicropi Florist and Gift Shop has been a prominent fixture in the downtown Seneca Falls shopping district. The "Florist with the Personal Touch," attributes their remarkable longevity to a business approach that strives to exceed customer expectations with quality, value and professional service. However, the secret to their success may have been a random act of kindness and some good teaching.
   
Owner Joyce Sinicropi knows a thing or two about being a teacher. Prior to starting the operation, she taught business in a local school district for several years. When her husband's uncle (Tony) was in a Long Island hospital, the couple sent a 'get-well' card to lift his spirits. The card carried extra motivation for Tony, as it encouraged him to help Joyce realize her dream of opening a flower shop. Uncle Tony had experience in the field. Once recovered, he was willing and eager to take them up on the offer. 
Tony would come to Seneca Falls and help run the new business, while Joyce continued teaching during the day and learning from him at night. Unfortunately, Tony's failing health required Joyce to expedite her education and take a leave of absence from her teaching job. When it became clear that he could no longer work, she resigned as a teacher. "It was work, work, work, while I learned," Sinicropi recalled. "It has been a beautiful and rewarding career. I'm still teaching, just in a different aspect."
With knowledge gained from her mentor and the support of her husband (Vito), Joyce's passion for gardening and love of flowers 'blossomed' into the current business. The shop has two separate areas, one where flowers and plants are displayed and arranged, the other a gift shop featuring religious and inspirational items; fashion accessories; local Finger Lakes souvenirs; candles and lotions; holiday items; and clothing accessories like socks and scarves. 
Joyce defines her success through the trust given by her customers.  They appreciate the honesty, integrity, and personal service by which the Sinicropi Florist staff operates. "We have received many community and industry honors which have motivated us to work even harder to meet customer expectations," she said.
There are many things that Joyce appreciates about her labor of love, but helping people to express their emotions (through the beauty of flowers) and becoming a part of their extended families is among the most rewarding. "We have shared both the happy and the sad events of life," Joyce explains. Her most memorable experience was the time a couple came into the store to order flowers for their wedding.  They had no family nearby and no one to be their legal witnesses.  So Joyce and Vito stood up for them at a small and intimate wedding ceremony.
Inspired by her parents, Joyce Sinicropi works as she lives – with compassion for others, a passion for life, and love of family, friends and God. It is a lesson that she hopes to share with others – along with the delightful shopping experience at Sinicropi Florist and Gift Shop.