Discover Seneca County's Military Appreciation Trail
Seneca County's many historical sites and monuments offer clues to the prominent role that our community once played in many of the nation's most important military events. From the Revolutionary War to the Civil War to World War II and beyond, there is much history to be discovered in Seneca County.
LEARN MORE ABOUT SENECA COUNTY'S UNIQUE FACES AND PLACES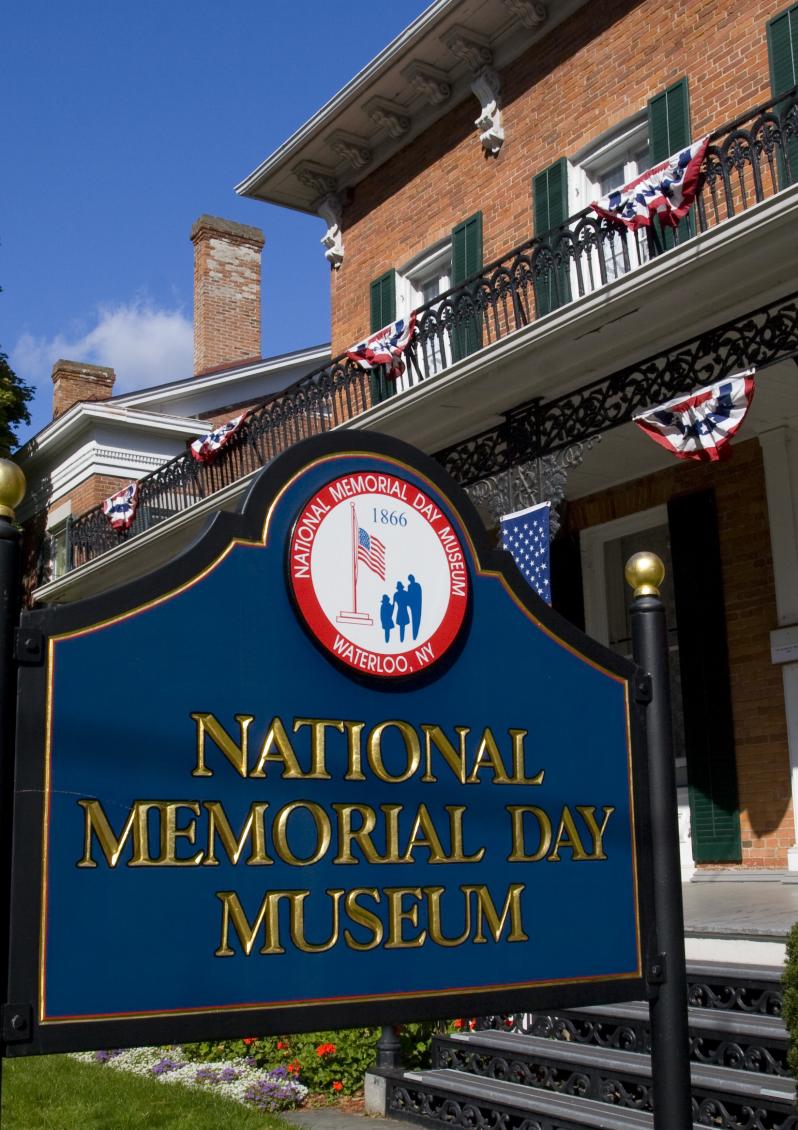 Seneca County Remembers
On a peaceful spring day in 1865, Waterloo, NY druggist Henry Welles was captivated by the sight of a soldier's widow placing flowers on her husband's grave - one of the many New York casualties from the Civil War. The somber image emboldened Welles to raise the consciousness of the local community and commemorate the great sacrifices made by all of the fallen soldiers. Military Appreciation Business Directory
Military Appreciation FAQs
Between October 1942 and April 1946, over 411,000 sailors were trained for World War II at the Sampson Naval Base -- a 2,500 acre facility on the eastern shores of Seneca Lake.

Within six months of the attack on Pearl Harbor, construction began on the base and it was completed in 270 days at a cost of just over $56 million. It was described as a "city within a city" by observers, as the base was divided into five units. Each was set up to train 5,000 recruits, and each contained a 14-acre parade ground and drill field, a drill hall with a 2-acre indoor drill area, a gymnasium, a swimming pool, a movable stage and motion-picture equipment. Living and administrative areas included a mess hall; 22 barracks, each of which housed 228 men; two barracks for chief petty officers; two dispensaries; a ship-service building for recreation; an administrative building; a rifle range; a small-arms magazine; and a large storehouse. There was also a 2,700-seat auditorium; a reception and visitors building; a 400-seat chapel; a post office; a brig; disciplinary barracks; and guard barracks.

Today the property serves as the Sampson State Park -- with much of the original layout and buildings visible to the public.

Planned by General George Washington and led by General John Sullivan, the expedition was a Revolutionary War campaign against the Iroquois Confederacy (who were allied with the British). Markers throughout the Finger Lakes Region identify important sites involved in the military confrontations.

Until it was decommissioned in 2000, the former Seneca Army Depot was a major munitions supply base for every military conflict from World War II to the Persian Gulf War. Built in 1941 on more than 10,000 acres, the depot stored bombs in reinforced concrete structures (known as "igloos") with arched sides and semi-circular roofs that still stand to this day. During the Cold War, nuclear weaponry was rumored to be stored on the site - making the depot and the Finger Lakes a prime target for foreign missile attacks.